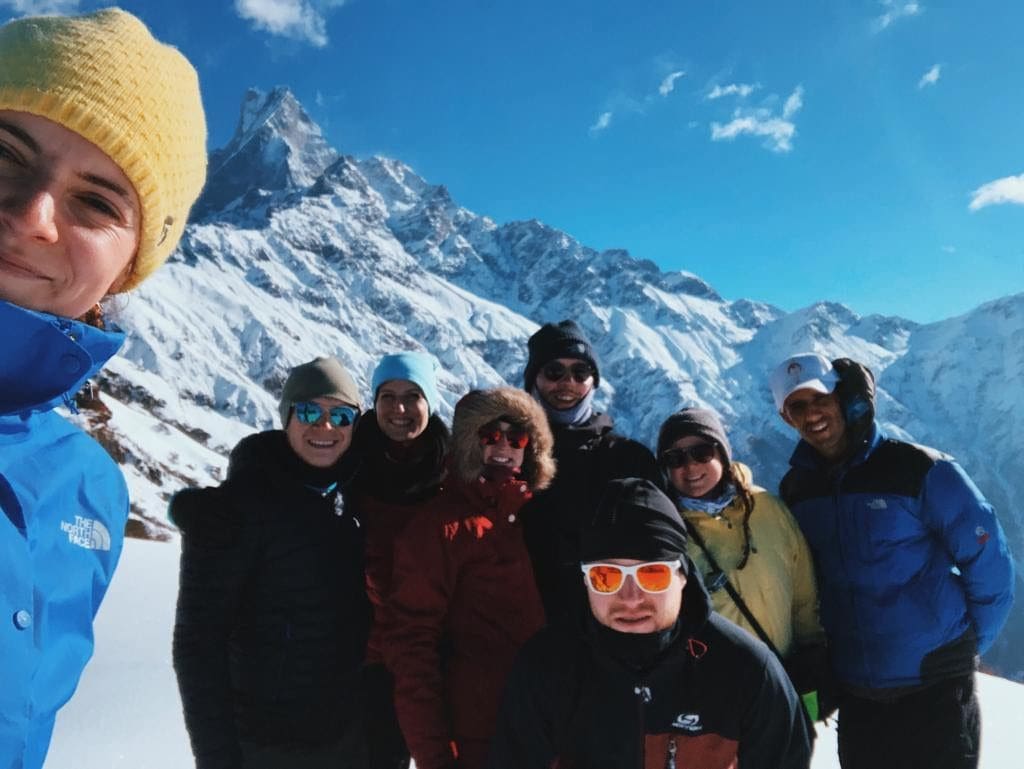 The country-wide lockdown had only started to lift when the ICIMOD Tourovation Hub welcomed 8 tourism enterprises. It all started virtually with entrepreneurs joining the program through ZOOM and it was one of those calls where Sudip Gautam, owner of Hotel Trekkers Paradise and Restaurant in Mardi High Camp gave us a virtual glimpse of the breathtaking Himalayan range from the high camp at Mardi Himal. The snow-capped mountains were admired in real-time from Langtang, Nawalparasi, Kathmandu, and Thimphu all at the same time. We were so far away, yet so close to the mountains in the Annapurna region. We all envied Sudip Ji to be running a business amidst the beautiful gift of nature.
Owner Mr.Sudip Gautam, giving us the majestic view of the mountains from the Mardi Himal High Camp during our Tourovation virtual ZOOM Masterclass
The Hotel Trekkers Paradise started back in 2007 at the High Camp of Mardi Himal soon after Sudip, a recent high school graduate decided to stay back in Nepal and develop tourism in this lesser known part of the Annapurna region. The villagers and elders mocked and ridiculed him when he first shared his idea to build a hotel for trekkers in the High Camp. Initially, High Camp was used by his grandparents for 'shifting cultivation' which was a common farming practice in the area at that time. Only a handful of trekkers used to take up the trekking route and camp in the area. There were no guest houses to accommodate these rare visitors, but Sudip saw an opportunity to further build this beautiful paradise not too far from the city of lakes, Pokhara.
14 years since the first hotel was built by Sudip and his family, they are now joined by many over 40 other hoteliers in High Camp, generating employment for more than 250 people, most who hail from Gorkha. Hotel Trekkers Paradise & Restaurant offers 8 warm standard rooms with a large hall for all the trekkers on the route to come together, dine and exchange their travel stories. Hotel Trekkers Paradise and Restaurant is not just any hotel but a hotel started with a vision to create opportunities for everyone in the community and overall Nepal. As Sudip who was set to go to Switzerland for his further studies says, "I stayed in Nepal because I may have gone alone and progressed but I wanted to take the whole community along with me. There was a time when I was alone but today, I am joined by many".
It has not been long since the route has started seeing more domestic tourists in the recent years since 2018. With a gradual shift in the mindset of Nepali youth to travel and explore more the country has seen a sudden rise in the number of Nepali trekkers and so has Mardi.
But with the rise in the number of tourists, Sudip was alarmed by the impact of tourism on the environment. More visitors meant increased use of firewood to keep the fireplace running for warmth and use of more plastic bottles to provide safe drinking water. In search for guidance to address the environmental needs and practice responsible tourism, Sudip joined the Tourovation Hub where he is working with our team of experts to adopt renewable energy and energy efficient solutions. He is committed to develop a climate resilient business in Nepal. His enthusiasm to incorporate these solutions into his business is why Dr. Dilli Ghimire from Nepal Energy Foundation suggested the Tourovation program to him; highlighting what a visionary and responsible entrepreneur he is and always thinking ahead.
"I am having a really good time and learning a lot in the Tourovation Hub. We have been learning a lot of news things that we were previously not aware about. The program has been really helpful in understanding carbon emission and maintaining financial discipline, which was always important but kept secondary. This is a resourceful stepping stone for my business to become a Green Business."

Sudip Gautam, Owner of Hotel Trekkers Paradise and Restaurant on his experience at Tourovation Hub
The Mardi Himal trek can be started from the usual caravan route that starts from Dhampus, a Gurung village just 45 minutes drive from Pokhara. If you want an experience of culture, nature and adventure all at the same time and not all too tedious, then the Mardi Himal Trek with Treks Inside Nepal an extension of Hotel Trekkers Paradise and Restaurant is for you!
For booking and information:
Phone: +977 9856087625
E-mail: [email protected]