Fourth cohort of I-Cube startups is in!
It's been a more exciting, chaotic and vibrant month at Nepal Communitere as we approach the end of 2020 and enroll the fourth batch of I-Cube companies. YAY! We entered 2020 by successfully incubating and graduating a total of 18 startups from Kathmandu and Chitwan with support from our invaluable partner UKAID (DFID Nepal). After the COVID crisis hit the economy, we knew that it's even more critical to launch another cohort of the program by adapting with new ways to offer what is most necessary for the survival and growth of these young Nepali startups. We look forward to working closely with this new batch of four promising startups who are a bit different from our previous batches. This is a cohort of companies who are seeking to pivot and adapt their business models to survive this COVID economic crisis. Our new batch of I-Cubers are here and ready to roll up their sleeves to tackle the pandemic and take their business to the next level through incubation!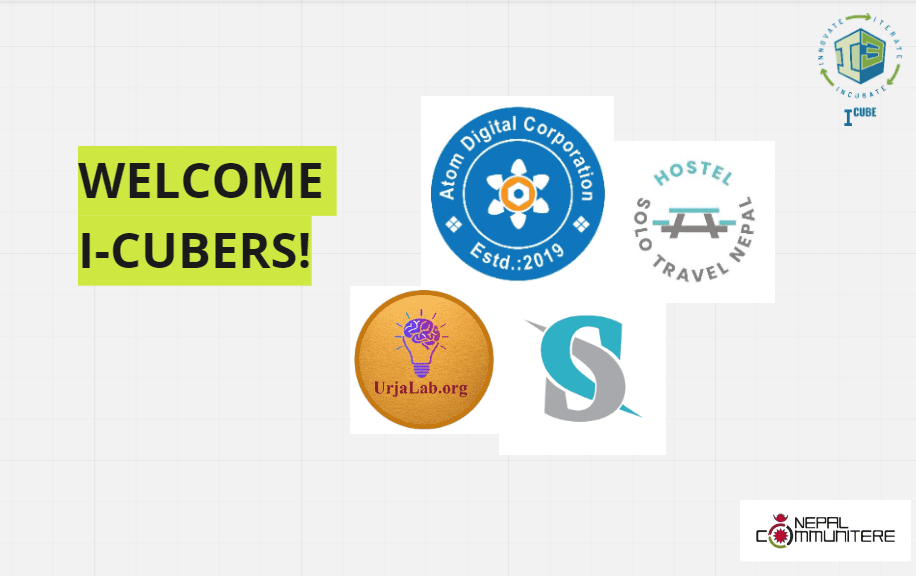 One of the four startups enrolled this year is Sikable. Sikable is an online learning platform and events marketplace that provides various courses in Nepal. The company serves as a platform for educators and instructors to provide online courses to students in Nepal. Their platform has more than 1800 learners, 120 collaborators (Educators) with 50+ courses available on their platform. The company is soon launching a platform which allows virtual meetings to cater to the needs of the Nepali remote workforce. The team is really excited and looking forward to getting the right target audience and marketplace for their product through the help of I-Cube.
Atom Digital Corporation is another tech-based company that introduces a unique digital employment platform which promotes online/digital job positions under their brand name and website "Onlinekaam.com". Unlike other job search platforms, they focus on jobs that can be performed entirely remotely and aim to ensure job opportunities for people with disabilities, women and youth who are unemployed or underemployed in Nepal.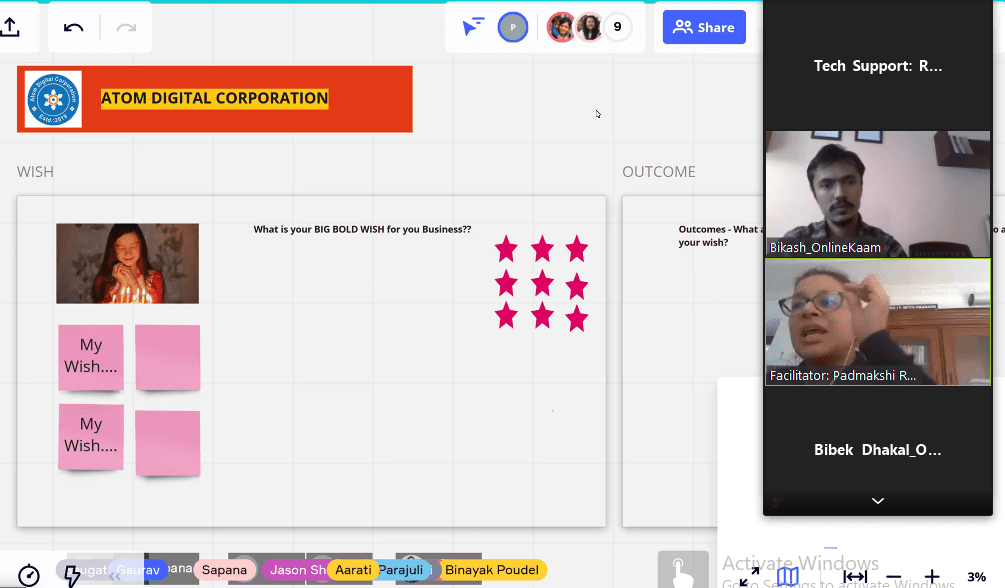 Our new cohort of I-Cube also has a focus on the tourism sector. Hotel Kathmandu Travelers aka Hostel Next Door started with a vision to spread all across Nepal to introduce alternative Nepali tourist spots to engage people between the age of 20-30 years in conversations with diverse travelers. The company focuses on accommodating travelers who are here in Nepal to travel for a longer period of time unlike most trekkers and commercial tourists in Nepal during the tourism season. The hostel has a bar and a restaurant in its premises with the idea to make it a place where local and international travelers can make meaningful connections and dialogue around travel. Their business is evolving which makes them open to pivot. Through incubation they want to design new travel experiences that align with the specific interests of travelers they are targeting. 
The current crisis has encouraged and compelled businesses to adopt digital solutions and startups are working hard to modify their business models by incorporating digital means. It also stresses on the fact that there is a need for additional resources for companies as well as the incubators to run curriculum online. On the flip side, this has given us the opportunity to serve these young and brilliant companies even beyond Kathmandu, remotely! Urja Lab, our fourth I-Cube startup is a tech-focused IT company based in Pokhara. They have various subsidiaries under their umbrella, including their Gyan hub co-working space, Urja incubation center, Urja IT Solution with Urja Tech Academy and Shop G which they launched recently post pandemic. Given the various survival challenges, the company is currently trying to pivot by introducing virtual platforms for teams and starts up to work from home and facilitating the process on different virtual platforms.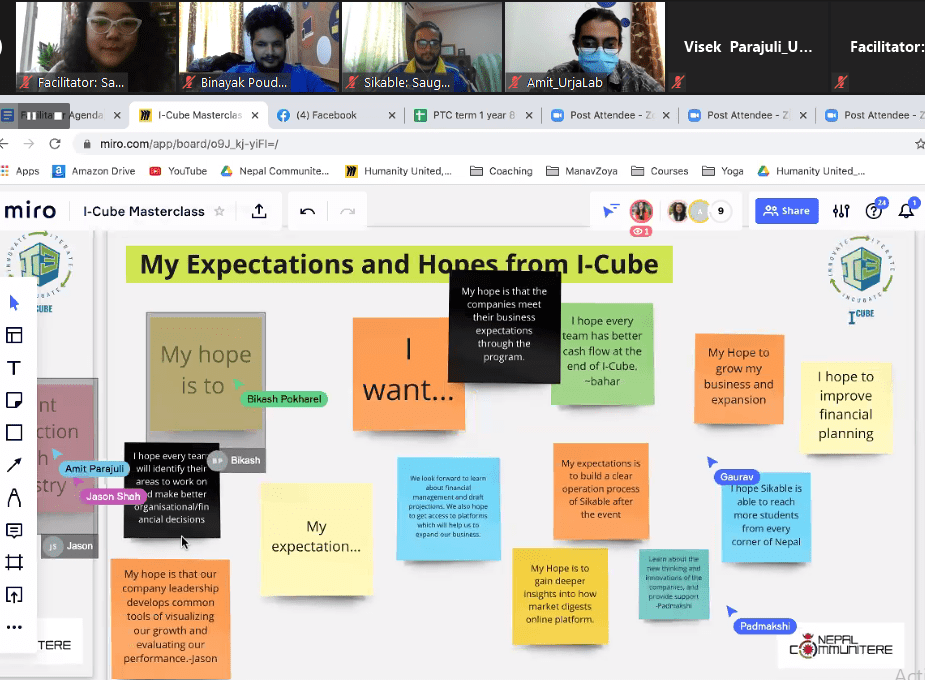 Within a month, these brilliant and pro-active entrepreneurs have already started receiving intensive business coaching and financial management sessions from the incubation leads: Aarati Joshi, Deputy Director of Finance and Bahar Kumar, Strategic Advisor at Nepal Communitere. We designed the coaching sessions of this year's incubation program to be conducted remotely using online tools such as ZOOM and MIRO. We even completed our first I-Cube orientation and Milestones masterclass in late October where entrepreneurs developed their business goals and incubation milestones for the next 7 months. Majority of the participating teams were using MIRO for the first time and found it to be useful not only to interact amongst themselves during the masterclass but also a tool they wish to use in their companies ongoingly.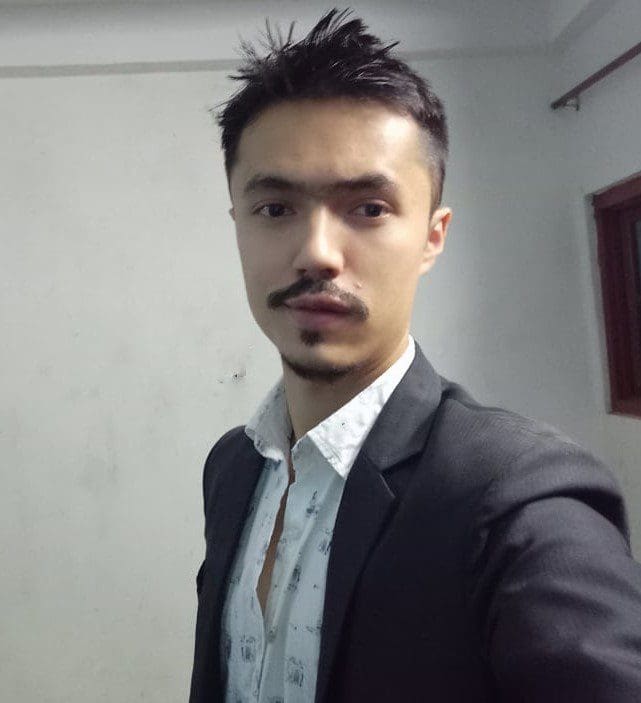 "I-Cube Business Incubation program hosted by Nepal Communitere has become an incredible platform for our newly born vertical OnlineKaam under Atom Digital Corporation. Since the inception, we felt the need of an incubator that would help us through our business plans and strategy goals to scale as per the need. We are blessed and thankful that we are on this program and feel delighted to get selected into this business incubation program, enabling us to think extensively while contributing to society. And, our facilitator Aarati maam is remarkably helpful and supportive!"

Bikash Pokharel, Founder of Atom Digital Corporation.
The companies will now undergo 7 months of intense business incubation with monthly masterclasses, 1-1 coaching sessions, and get access to seed funds of upto 1 Lakh to pivot, design, test and launch new solutions to take their business to the next level. Exciting!