What a remarkable month it has been, and what an extraordinary year it's been at Impact Hub Kathmandu. We've been on an incredible journey alongside 21 dedicated civic actors in the Lumbini and Madhesh provinces. This journey, USAID Civil Society and Media (CSM), funded by USAID/Nepal through the CSM-STAND LWA, is implemented by The Asia Foundation in Nepal to support independent civil society and media led by and for targeted women, youth, and marginalized communities to advance public interest, fundamental freedoms, and accountability.
As a young professional, particularly as a woman, I found myself accompanied by another remarkable young woman, Rachana Khatri, my colleague and partner in this endeavor. This past year has been transformative. Rachana and I embarked on what initially was just a program but quickly evolved into a passionate project. We ventured out, met incredible individuals, listened to their stories, and found ourselves not only hearing their narratives but being profoundly inspired and empowered to craft our own. This article is dedicated to our team at Impact Hub Kathmandu, the civic actors we worked with and our partner organizations. They believed in two young women, granting us the creative freedom to work passionately. It's also a tribute to the journey of the 21 civic actors with whom we had the privilege of collaborating.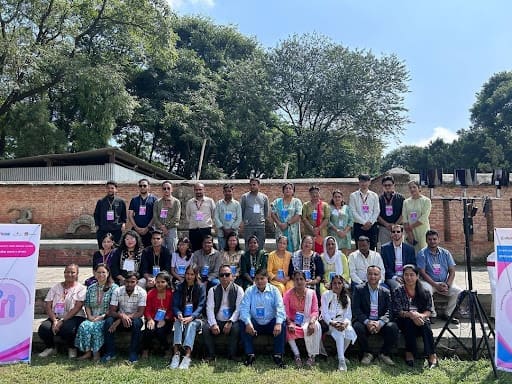 A year ago, we embarked on our journey to Lumbini and Madhesh province. Our goal was not merely to locate civic actors; rather, we were on a quest for the stories they held and for leaders seeking opportunities to amplify their impact, often overlooked. During our Human-Centered Design Research, we discovered countless stories of individuals laboring to construct a just society. Deliberately, we selected leaders from diverse backgrounds and underrepresented communities to join us.
Over the past six months, alongside our dedicated team, we meticulously designed and executed leadership coaching programs. We mobilized six local mentors from both provinces, a decision driven by our desire to engage local leaders who intimately understood the context of the communities our civic actors served. We aimed to provide essential support to these individuals on the ground. It's a common misconception that mentorship and expertise must come from urban centers, but our research contradicted that notion. During our scoping and mapping, we encountered leaders who were experts in their communities and adept at mobilizing civic movements.
Our program was co-created with the civic actors using design thinking principles to support them to expand their networks beyond their communities and municipalities, envision organizational and mobilization models that could build financially resilient movements, acknowledge the tireless work of grassroots civic actors, and foster an emotional support community for those taking the lead. Building trust within the community and ensuring their expertise was not diminished and was a pivotal aspect of our program. We were there not to dictate but to enhance and explore more effective ways, in partnership with the civic actors themselves, to magnify the impact of their work.
In the process, we introduced civic actors to the social business model, digital skill enhancement, stakeholder mapping and partnership development. Similarly unconventional fundraising methods were introduced through the expertise of our consultant, Haushala Thapa Magar, founder and director of Children and Youth Organization. Haushala's inspiring journey of establishing a school for underprivileged children of Nepal to ensure quality education without any government grant or support was a wealth of motivation for our civic actors. This session encouraged civic leaders to think beyond traditional fundraising methods that were often inaccessible or politically driven. They learned to identify resources within their own communities, tap into their networks, and explore crowdfunding opportunities.
The work of these civic actors often entails significant stress and exposure to traumatic experiences on the ground. Recognizing their need for stress management and mental health support, we collaborated with Sanjha Dhaago to assist them in coping with the challenges they faced. This partnership aimed to create an emotional support community and a safe space for vulnerability while working with vulnerable communities. Jamuna Maharjan Shrestha from Sanjha Dhaago, with her extensive experience in psychosocial support, facilitated a profound one-day session with the civic actors. It was a session filled with raw emotions, tears of strength that had been hidden for far too long, and the birth of a safe space where they could trust one another within the cohort.
After six months of dedicated engagement with the civic actors and a year of back-and-forth efforts between Kathmandu, Madhesh, and Lumbini, we realized the importance of sharing their work with the wider community in Kathmandu to increase access to resources. Therefore, despite being a small organization, our team took a bold step. We invited our civic actors to Kathmandu for a three-day event at the end of September. While this may mark the final leg of our first year in our reports, it signifies a new beginning for our program and the civic actors themselves.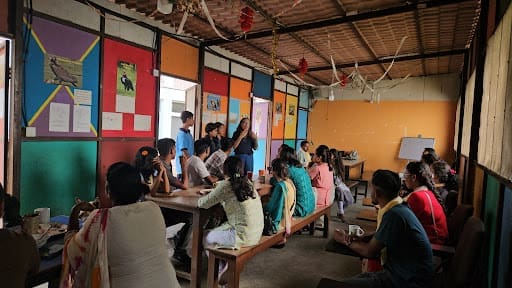 This fresh start brought 21 civic actors to Kathmandu under the banner of 'Strengthening Civic Threads: Lumbini, Madhesh, and Kathmandu Nexus.' Civic actors from Lumbini and Madhesh made the journey to Kathmandu. Multiple stakeholder meetings with media and potential organizations in Kathmandu were organized to prepare for their arrival in Kathmandu. We organized exposure visits for them, including a visit to the Children and Youth First Organization situated in Bistachhaap Godavari. Here, they explored community resource mobilization and engaged in creative experiential learning. The civic actors were accommodated in three different boutique hotels in Patan run by local entrepreneurs. The aim was to support local entrepreneurs and also place the civic actors between the history and culture of Patan. Food culture was an essential part during their visit where we dined them in Thakali, Newari and Indian restaurants. 
Networking, 21 civic actors made their way to Kathmandu for the 'Strengthening Civic Threads: Lumbini, Madhesh and Kathmandu Nexus
Floating Human Library, Stories of Lumbini and Madhesh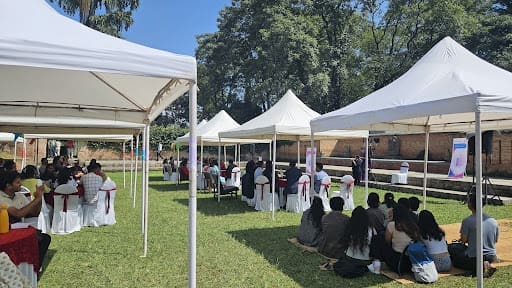 A captivating day of networking unfolded in the enchanting Bhandarkhal Garden inside the Patan Museum. Adjacent to the historic Bhandarkhal tank, our canopies were carefully arranged to create learning circles, each embracing the concept of a human library. These circles were orchestrated by civic actors hailing from Lumbini and Madhesh, focusing on topics closest to their hearts: citizenship rights, human rights, women's rights, dalit rights, disability rights, and the pressing issue of climate change. Our attendees came from diverse backgrounds, representing youth-led organizations, queer communities, educational institutions, and social enterprises. The event was a canvas for fostering meaningful collaborations and partnerships.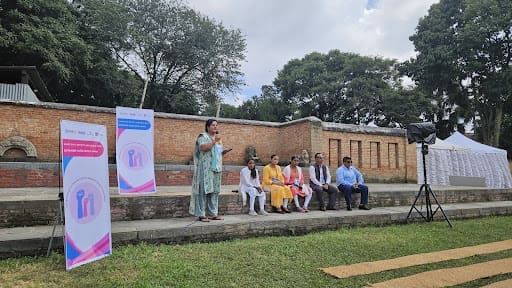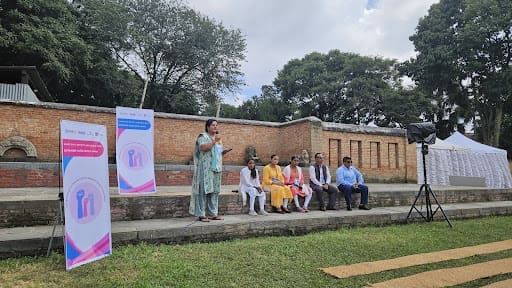 Inclusive Voices in Panel Discussions: We collectively acknowledged the often-overlooked fact that most panel discussions fail to include and embrace grassroots leaders from diverse walks of life. We strived to ensure that local narratives were not just about, but also by, the locals. Our panel discussion was moderated by civic actors themselves, with fellow civic actors as panelists. They delved into the status of civil society organizations in both provinces, offering unfiltered perspectives and narratives. It was an empowering experience for our civic actors to shed light on Lumbini and Madhesh provinces. Simultaneously, it was an eye-opening experience for our attendees, who gained insight into the struggles faced by people with disabilities, LGBTQI+ communities, Muslim women in Terai, Dalit communities like the Musahar community (an ultra-marginalized Dalit group in Madhesh), and the youth of the Kurmi community. This discussion truly embodied our commitment to providing a platform for underrepresented communities in Nepal. To bridge language barriers, we provided Nepali-to-English and English-to-Nepali interpretation devices, along with a Nepali Sign Language interpreter for deaf attendees
Community Skill Showcase: An exhibition space was thoughtfully designed to highlight the remarkable skills of the communities our civic actors collaborate with. These communities possess indigenous talents that often go unnoticed due to a lack of knowledge about market demands. The exhibition featured handmade jewelry, home decor, toys, and cleaning materials crafted by marginalized communities and individuals with disabilities of Lumbini and Madhesh. Our aim was to connect these skills with the right and wider markets, enhancing their abilities for a better product-market fit. The civic actors also had the opportunity to learn about marketing their products for sale and generating profit to support their initiatives and long-term sustainability.
Another exhibition space was curated to introduce the civic actors themselves through informative posters and short biographies. We recognized the importance of conveying their stories through various media. To ensure accessibility, we had the stories written in braille for our blind audience, ensuring that no one missed out on these remarkable narratives. Similarly, the program agendas were also printed in braille, a gesture that was deeply appreciated by our civic actors and attendees alike. This commitment to inclusivity created a wholesome learning and awareness environment, where every individual had the opportunity to engage fully.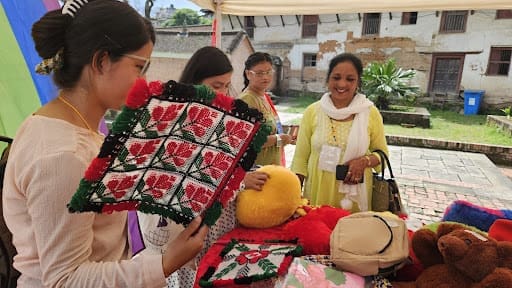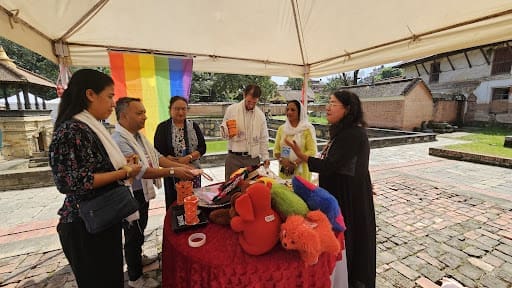 In this beautiful diverse setting, among the echoes of shared experiences and inspiring narratives, our networking event not only fostered connections but also left a lasting impact on the hearts and minds of all those who participated. It was a day dedicated to celebrating diversity, inclusion, and the incredible potential that lies within the underrepresented communities of Nepal. A day when barriers were torn down, stories were shared, and new beginnings were forged.
Reflecting on Our Cohort Journey and Charting the Path Forward
As the last day of our civic actors' stay in Kathmandu arrived, we marked this momentous occasion by launching three inspiring videos titled 'Meet the Trailblazers of Madhesh and Lumbini'. These captivating videos were a peek into our year long engagement with the civic actors and they featured all 21 of our remarkable civic heroes. The primary purpose of these videos is to serve as a powerful communication tool, empowering our civic actors to share their stories and initiatives with a wider audience through the medium of media. It's a platform for them to convey their narratives and connect with the hearts and minds of people who can resonate with their mission and identify them for future collaborations.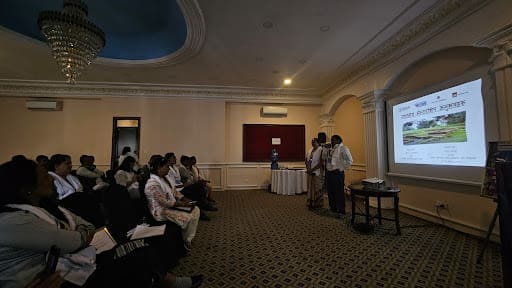 In addition to these videos, our civic actors took the stage to deliver four insightful presentations. These presentations served as windows into the cohort's experiences and learnings throughout the program. They also provided a glimpse into their future plans, outlining how they intend to communicate their needs more effectively and sustain the incredible work they've been doing. The platform allowed them to pitch their next steps as a cohesive team, leveraging the newfound network they had created during their journey together.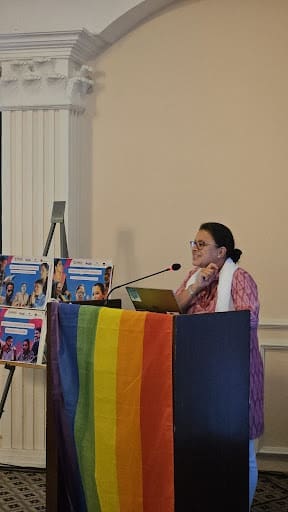 As we bid farewell to our civic actors, sending them back to their homes in Kapilvastu, Janakapur, Sarlahi, and Rupandehi, we don't view this as an ending, but rather as a new beginning. It's evident that this fresh start holds immense promise, not only for our program next year but also for the communities we passionately serve and, most importantly, for the civic actors who are the driving force behind positive change. We embark on this journey with enthusiasm and optimism, eagerly anticipating what the future holds. 
Together, we will continue to make remarkable strides towards our shared vision of a stronger, brighter and more inclusive future.