Join Accelerate Regional Membership today for free! Applications end on April 17, 2022!  🌟
In collaboration with the Bank of America, Impact Hub presents the Accelerate Regional Membership in the Asia Pacific region. This 9-month innovative membership aims to provide resources and support to impact-driven entrepreneurs as they continue to operate in a  new normal through amazing membership benefits!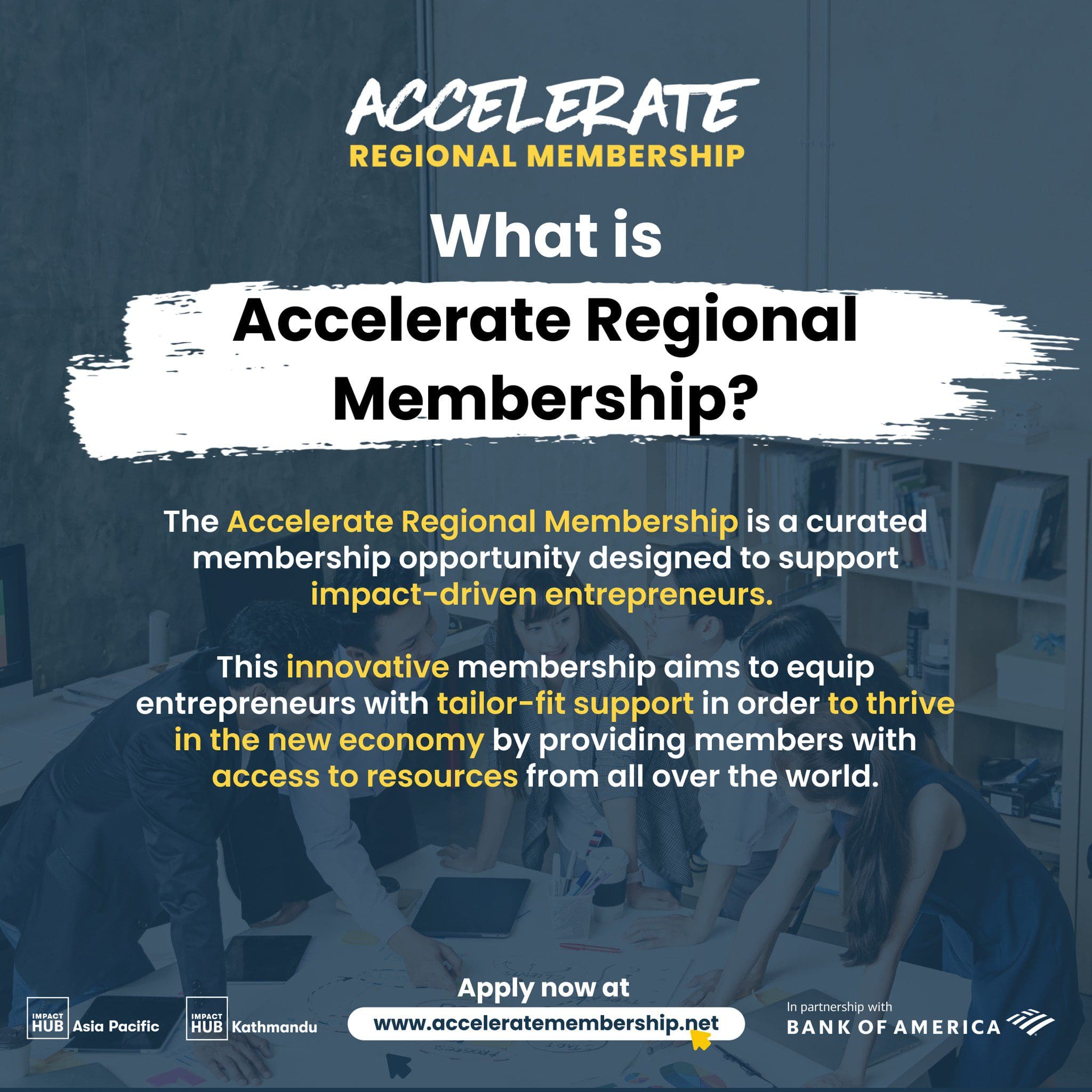 Already on its second cycle, the Accelerate Regional Membership opened its applications last March 4, 2022, and has widened its reach by welcoming Impact Hub Kathmandu to join the ten (10) other hubs that will be implementing the membership on the local level.
The membership seeks entrepreneurs with early-stage to growth-stage enterprises that address at least one of the United Nations Sustainable Development Goals. Women and underserved communities are especially encouraged to apply. Please take note that your enterprise needs to be operating in the country of one of the 11 participating Impact Hubs in the Asia-Pacific region.
Curious to see what being an Accelerate Regional Member looks like? Watch the Accelerate Membership 2021 Regional Community Showcase and see how each hub was able to support its cohort during this past year in the pandemic.
The membership will run from April-December 2022 and in the span of these 9 months, you can expect to receive mentorship from experts, curated workshops, the chance to connect with like-minded individuals all over the APAC region, and many more!
If you feel like this is a great opportunity for you, you have until April 17, 2022 (Sun) to apply! Learn more about the Accelerate Regional Membership here. and follow Impact Hub Asia Pacific on Facebook for more updates!
Looking forward to making an impact happen with you 🚀 
Hub on,
Impact Hub Kathmandu