Antidote, one of our star alumni from the I-Cube Business Incubation Program Cohort II, introduces a new digital thrift store — first 500 buyers get FREE delivery all over Nepal!
Antidote, on 10th of January, announced the launch of its first digital thrift store packed with powerful tools and features for its thrifters and sellers. The company claims that this launch will help buyers find great deals on used and like new items while making it easier for anyone who wants to declutter their closet and start selling instantly.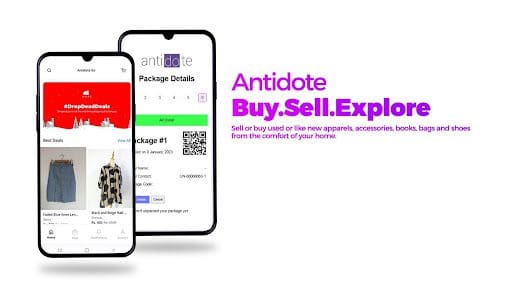 "We have extensively been in touch with our buyer and seller community for the past 12 months. Every feature and every tool have been meticulously tailored keeping our buyer/seller community in mind".

Founder, Manish Jung Thapa.
Aatish Dube and Bikash Paneru, who are leading the technology team at Antidote agree that addressing the grievances of both buyers and sellers was the top priority. Paneru, a former Fusemachine engineer shares the company's plan to roll out sellers' features every month. Paneru continues, "There's so much work that needs to be done, we are consistently reaching out to our community and asking them how we can help them sell more".
Getting Started as a Seller
Anyone wishing to get started as a seller can start instantly by creating an account in Antidote's Seller Portal. One can choose to either drop their items in one of the 13 self-drop points or can schedule a pickup at their convenience. Albeit limited to the valley as of now, the company plans to expand the self-drop points to 50 locations across 10 cities. Similarly, the company plans to launch scheduled pickup points in 2 cities by the end of August this year.
For a nominal commission of 20% (charged only once the item is sold out), Antidote provides end-to-end service to its sellers. On behalf of the sellers, the company takes care of pickup (upon buyer request), storage, photography, delivery, return handling, and payment processing, making it easier for anyone and everyone to sell their items from the comfort of their homes.
Buy Confidently
If your New Year's resolution is to live sustainably and be gentle to the planet, buying secondhand might just be one of the habits that you need to inculcate in your life. Data shows buying one second-hand item instead of a brand-new one can save up to 15kg of carbon emissions.
Antidote's new digital thrift store provides all the standard features any e-commerce shop would have — making it easier for buyers to find items, compare prices, sort products and make seamless orders.
Afraid of receiving less-than-par items? Antidote claims all the purchases made through the platform come with a two-day easy return and exchange feature. Dube, who also leads the Customer Experience side of the business, claims that every buyer who buys through the platform is protected by Antidote's Buyer Protection Policy. 'Features like hassle-free return and exchange is the first of its kind in our industry', claims Dube. Dube continues, 'While the majority of similar platforms do not entertain exchanges and returns at all, we as a company believe that this is a necessary step towards normalizing second-hand purchases'. 'This is a nascent industry; we need to add on features to incentivize buyers to opt into this new model of shared consumption' echo Thapa and Paneru.
Buyers wanting to shop can benefit from their launch discounts and FREE delivery offer. The first 500 buyers stand a chance of FREE delivery all over Nepal (on orders above Rs.1000 only).
About the company
Antidote is an online thrift store where one can find great deals on like-new and used items. Antidote began during the lockdown of 2020 when the core founding team finally had the time to go through their closet and were taken aback by the sheer volume of items they owned but didn't use.
Since its beginning, Antidote has helped 5,000+ sellers sell 90,000+ items from the comfort of their homes.