Challenging The Mental Health Stigma in Nepal: Happy Minds Health builds an Inclusive Mental Health & Wellbeing Platform!
Mental health is a heavily stigmatized topic in Nepal and is most often associated with negative connotations. Whenever mental health issues come up in conversation or the need for mental health support is diagnosed or expressed, it is either feared, dismissed or shut down. According to the World Health Organization (WHO), Nepal, in 2012, ranked 7th in the world for the highest suicide rate, with 24.9 suicides per 100000 people (as cited by Nepal News, 2023). Nepal suicide rate for 2019 was 9.00, a 2.27% increase from 2018. A 2015 study, 'Mental health care in Nepal: current situation and challenges for the development of a district mental health care plan', identifies how mental health services in Nepal are only concentrated in the big cities, with 0.22 psychiatrists and 0.06 psychologists per 100,000 population (as cited by Nepal News, 2023). Founder of Happy Minds Health, Shreeya Giri and her team of 15 mental health professionals are trying to challenge and change this connotation across the country by building a safe and inclusive mental health support platform. I had the opportunity to work with and coach Happy Minds as part of our incubation journey at Impact Hub Kathmandu, adding to my passion to contribute to mental health awareness building. In my conversation with Shreeya, she shares numerous challenges a mental health support organization faces in Nepal. From not finding an office space for a mental health support organization, to dismissals in the Health Ministries of Nepal towards this issue due to lack of awareness, there are challenges and opportunities to change this narrative in Nepal which this powerhouse team is doing! Know their story!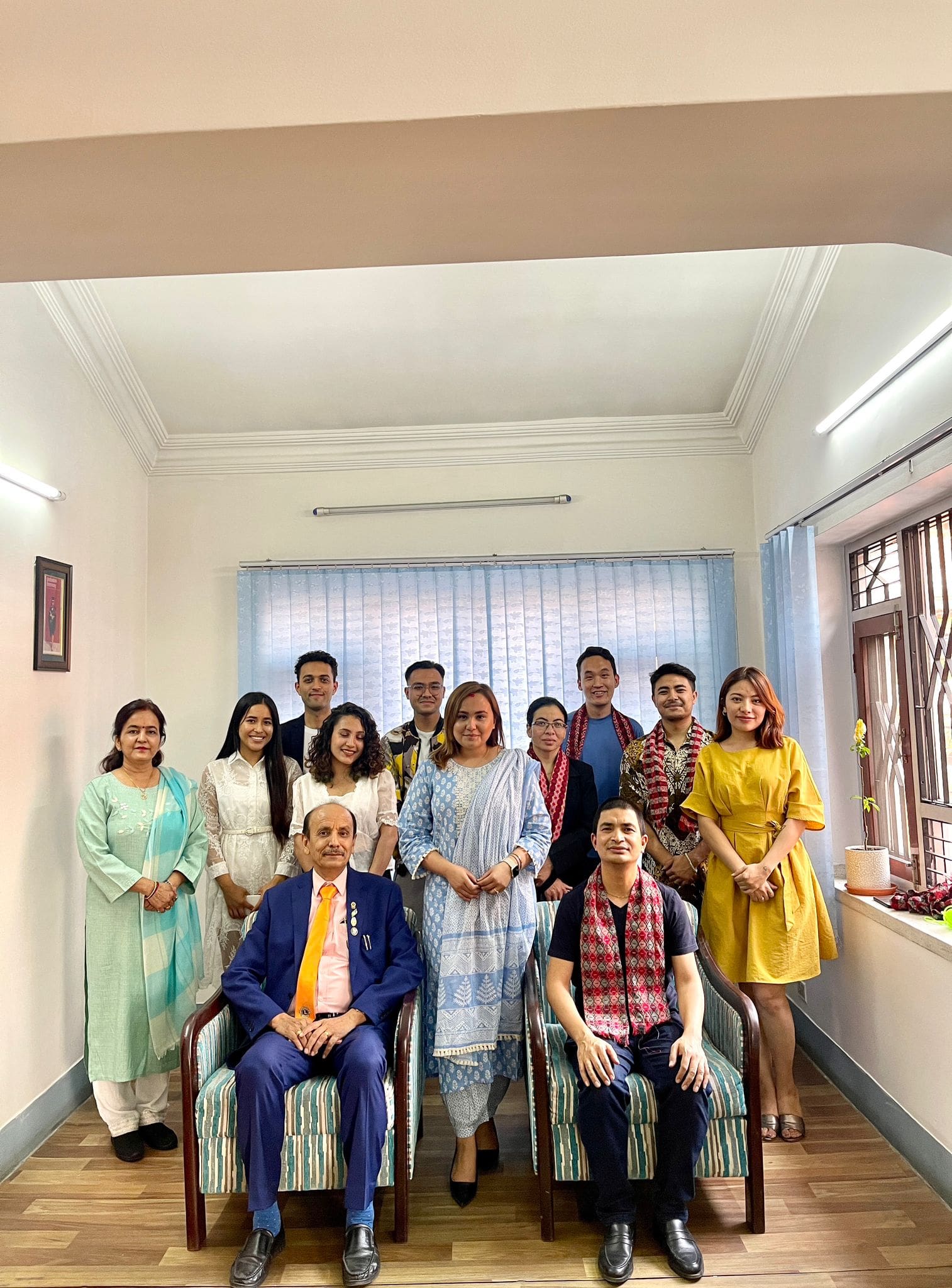 Happy Minds is a mental health and wellbeing organization initiated in 2021 that promotes mental health awareness and provides a platform for Nepalese people around the world to connect with mental health professionals. The team is trying to make mental health services as inclusive and accessible as possible. However, another major problem is the awareness of mental health in Nepal. Happy Minds has been initiating numerous campaigns to generate conversations on mental wellness and extended support services to 35,000+ Nepali around the world. Bridging the mental health gap through technology, the organization has utilized the increasing media usage to focus on personal and social well-being through campaigns like Men's mental health, RUOK, Gender-based violence, and more. 
Their platform promotes digital mental health literacy and a platform that provides digital mental health literacy and provides psychotherapy services to Nepalese people all across the globe. 
Shreeya Giri, Founder, Happy Minds Health

"Mental health is a heavily stigmatized topic in Nepal, even those who need support are hesitant to come forth for the support. As a mental health startup, our challenge has been both on the service seeker and provider's end: While the help seekers stigmatize the need for counselling and wait until the extreme condition before seeking support, the service providers are also limited in Nepal leaving 1 therapist for every 100,000 Nepali person. 

Our vision is to "Build a Global Community of Happy Minds."  
The next step in Happy Minds is to be a one-stop for all mental healthcare, including psychiatrist support. As well, as provide mental health support skills to women in rural areas and prioritize the mental well-being of the migrant workers. The focus is to:
Reduce stigmatization of mental health

Improve mental health literacy

Easy access to mental health care and support

Integrate mental health in the education and work system
Happy Minds considers the hurdles of all and any group of people that might be a discouraging factor to seek support: therapists experienced to provide support for LGBTQIA+ community, language options for people to feel comfortable when sharing challenges in counselling, ground floor therapy room with accessibility welcoming differently-abled people and patients. 
While Happy Minds intends to create a global community, the organization has adapted approaches to be more inclusive, encouraging individuals to seek timely support for their mental health. Such as sponsored counselling support in the workplace (EAP), flexible online appointments, services available over the weekend and public holidays, LGBTQIA+ friendly counsellors, pre-marriage counselling language proficiency in Nepali, English and Nepal bhasa, and more. They do this through their 1) Mental health digital literacy through creative approaches 2) National and international pool of experts 3) Accredited and experienced professionals 4) Confidential and flexible appointments 5) Accessible to Nepali audience globally 6) Virtual appointments to avoid the inconvenience of traveling.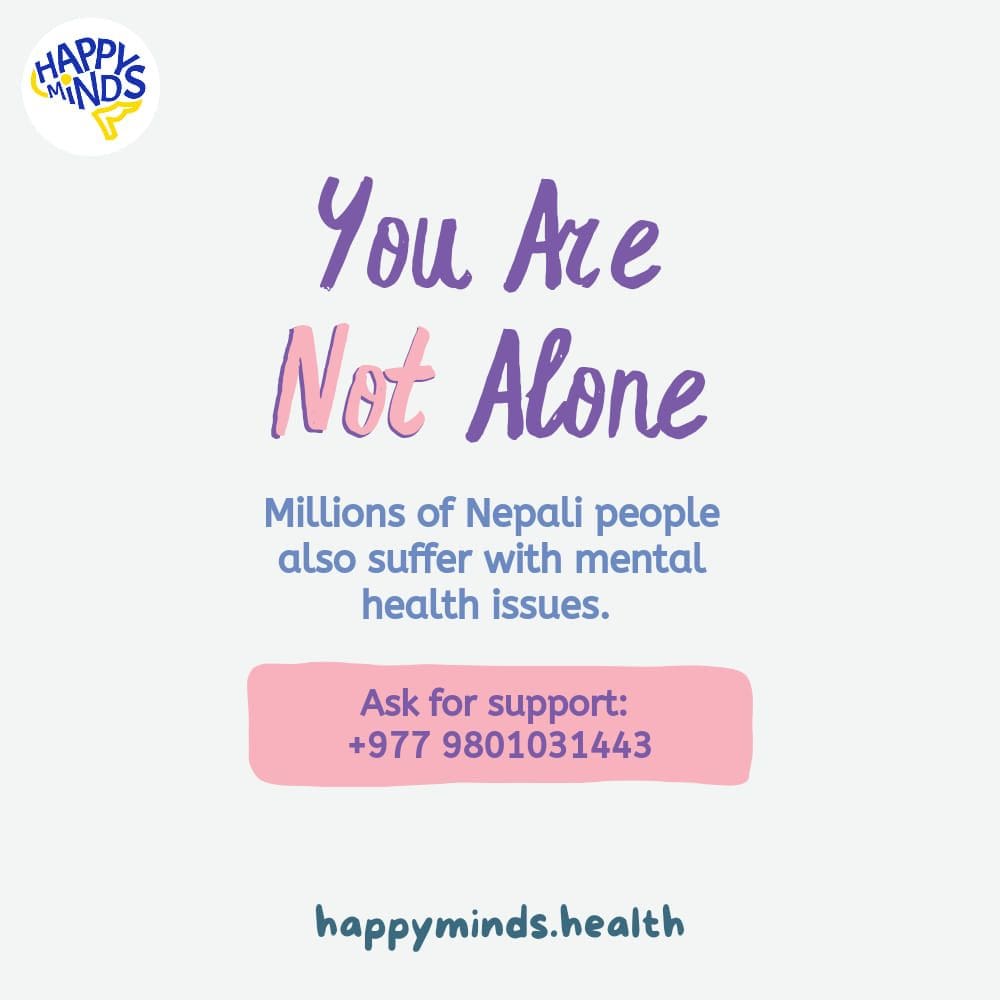 Message from the Happy Minds team:
Reaching for support when feeling vulnerable might seem difficult, not knowing when to reach out or with whom can be a discouraging factor in instances. We assure you that your loved ones and our team rather hear from you, about your highs and lows than later know that you were alone in your darkest period. If you want to speak with us or enquire about support, connect with us today: @Happyminds.health / +977 9801031443.