Dr Lorna Collins and Dr Ranjita Dhital, researchers from UCL Arts and Sciences Department, University College London, UK, launched Creative Nepal: Arts-Health Community, to explore whether an arts-health network could be of value in Nepal. Ranjita was born in Nepal and was honored to lead this exciting project in her ancestral home. Lorna and Ranjita co-founded Creative Nepal to enable future creative research practice and education exchanges between the UK and Nepal. The one-day creative community event was hosted at Impact Hub Kathmandu to explore these ideas and build Creative Nepal: Arts-Health Community. Here's what Lorna and Ranjita had to say about the event hosted at our vibrant hub!
We launched our Creative Nepal: Arts-Health Community at Impact Hub Kathmandu on the 5th of August 2022. Our fantastic presenters and participants made the unique event both memorable and enjoyable. Creative Nepal is an exciting new network bringing together practitioners and researchers from arts and healthcare settings, enterprises, and policy globally. This is a collaborative research platform to stimulate new ideas and solutions by connecting arts, health, and entrepreneurial business for Nepal.
Nepal comprises of diverse communities, each with a rich cultural heritage spanning thousands of years. Knowledge about health has evolved in Nepal through strong influences from a wide range of creative and cultural practices. Therefore, our relatively recent understanding of arts-health research already has strong roots in Nepal. Creative Nepal: Arts-Health Community aims to rediscover these creative practices to inform the development of culturally engaging and effective healthcare in Nepal – through interdisciplinary research and new ways of collaborative working.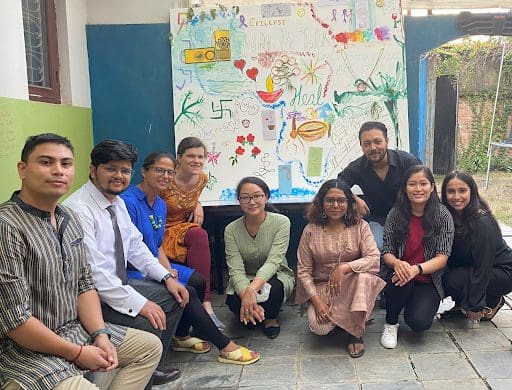 Photo: Creative Nepal Community 
Our Creative Nepal event was delivered in five "Acts". Act 1, Abhishek Chitrakar's meditative sound healing singing bowls created a harmonious and uplifting atmosphere to explore new ideas. This was followed by Dr Rajesh Pandav, WHO Representative to Nepal, whose opening words of support for Creative Nepal left us feeling motivated. Act 2, Dinesh Deokota presented his film "Stolen Dreams…Broken Lives", on the tragic and neglected realities of child marriage in Dalit communities in Kapilvastu District of Nepal. Act 3, Arushree Sharma, the co-founder of Avani Nepal, shared her delightful aromas of Nepali beauty products made with essential oils. In Act 4, Anjali Joshi and Dr. Pragyik Pandey, from Medharma, explored how the arts could help us to better understand the experiences of epilepsy and reduce stigma. In our concluding Act 5, BNMT Nepal made the space come alive by performing "Creating a healthier future", with Tharu Chhokra music, dance, and songs to raise awareness of tuberculosis. Between these Acts, and during our reflective discussions about "Vision for the Future", presenters and guests built a collaborative mural using found objects, paints, and other materials to express thoughts, feelings, and aspirations for Creative Nepal. It was a magnificent day and thank you everyone for making it so successful.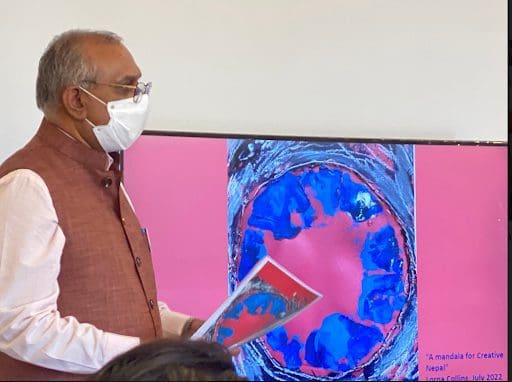 Photo: Dr. Rajesh Pandav from the WHO 
Photo: Arushree Sharma, Avani Nepal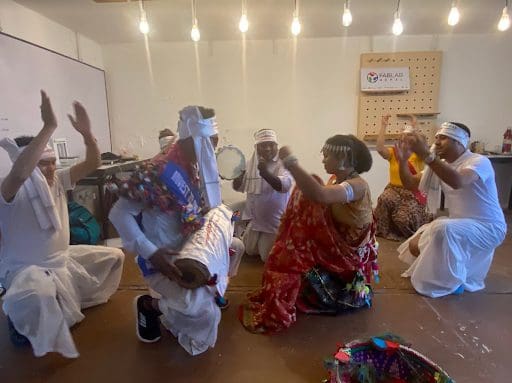 Photo: BNMT Nepal team performing Tharu Chhokra dancing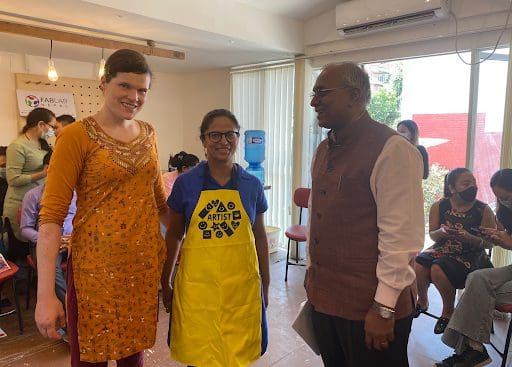 Photo: Dr Lorna Collins (UCL), Dr Ranjita Dhital (UCL) & Dr Rajesh Pandav (WHO)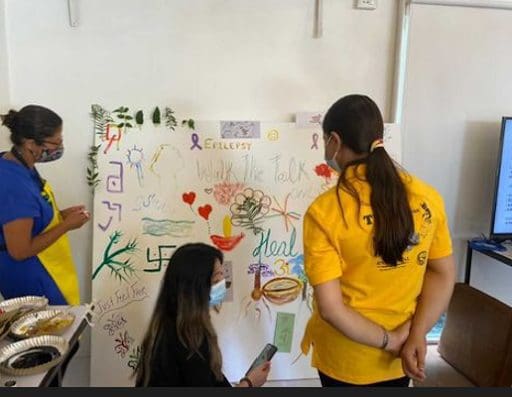 Photo: Building our Creative Health mural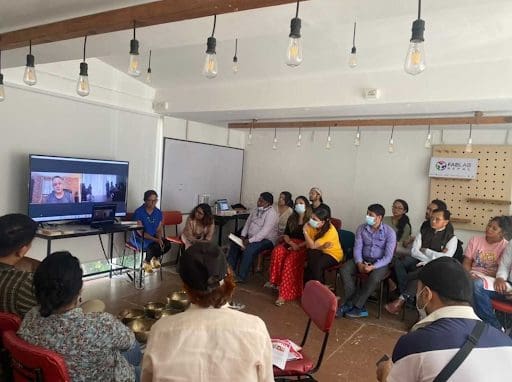 Photo: Discussion of Dinesh Deokota's film "Stolen Dreams…Broken Lives"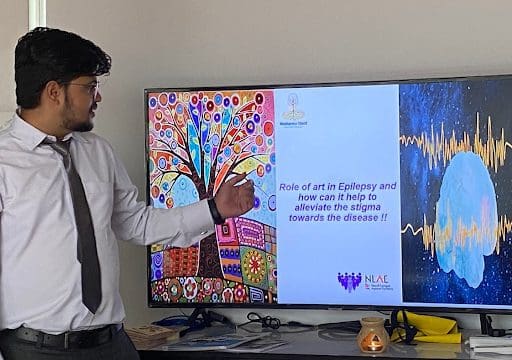 Photo: Dr. Pragyik Pandey from Medharma
Photo from L to R: Dr Ranjita Dhital (UCL), Dr Rajesh Pandav (WHO), Dr Lorna Collins (UCL) and Dr Lonim Dixit (WHO) with singing bowls
We've also had some great responses from our guests: 
"An exhilarating experience," 
 "The first event I've been to which brings together arts and health" 
 "…how to create effective communication, through the arts" 
 "Do another event outside the valley in other communities." 
 "I really enjoyed today's event; I left nursing for mural painting. Art gave me a voice."
 "Seeing the dancing was like taking medicine in different colors, it has the same good effect."
 "We've all worked together to create this mural, it is collaborative. By working together, we make it better."
 "The dancing transported me."
 "It makes difficult things very interesting and engaging to listen to if you bring arts to it."
 "The network can create opportunities to change things through practice."
Please join us to build our Creative Nepal community. You can join our Facebook group @CreativeNepalArtsHealth to receive information about our online and other meetings, follow us on Twitter, Instagram or Tiktok: @creativen_epal, and contact us if you wish to join our WhatsApp group. You can engage with our live Padlet and share your thoughts here:
https://padlet.com/r_dhital/x6xfwsuv7gatxtf2 
Please contact us to find out more: 
Dr Ranjita Dhital, University College London, UK: 
Email: [email protected] 
Twitter / Instagram: @RanjitaDhital
Twitter / Instagram: @sensinglorna
Acknowledgments
The Creative Nepal project was made possible through UCL Arts & Humanities Faculty Research Impact Fellowship awarded to Ranjita; and UCL Arts & Humanities Faculty Education Enhancement Fund awarded to Lorna and Ranjita. We would also like to thank Professor Tim Jordan, Head of Department, and Cristy Meadows, Department Manager, UCL Arts and Sciences Department (UASc), UK for their support with the project. Finally, big thank you to Impact Hub Kathmandu for hosting the event.
By Ranjita Dhital, Organizer, Creative Nepal: Arts-Health Community