By: Samanata Thapa
As some trekking trails like the Annapurna and Everest circuits have become popular over the years by thousands of trekkers from all over the world, there are places like the Dolpo region which are yet to be visited by many. Dolpo was first brought into attention amongst Nepali and especially international travellers by Eric Valli in 1999 through his film, 'Caravan'. I watched Caravan in a crowded and old Jai Nepal Cinema hall before it was revamped and renovated into what it is today and although I barely remember the plot, I remember the turquoise blue lake, rugged trails with yaks, a unique culture with men in braided hairstyles and of course the infamous Thinley. The scenic beauty never left my memory, but it is only after almost 19 years after watching the movie, that one of our Tourovation companies, Himalayan Companion Treks and Expedition connected the dots for me and reminded me of the existence of Dolpo, a hidden and sacred beauty of Nepal.
Himalayan Companion Treks and Expedition is an eco-friendly trekking and expedition company that specializes in Dolpo, Mustang and Western Nepal. It is one of the few that promotes and makes trekking in the Dolpo region possible for travellers from all around the world. They promote treks and expeditions in remote Nepal by practicing sustainable tourism. Their search for guidance and support to incorporate sustainable practices into their business is what led them to the Tourovation Hub, where the company is working to apply renewable energy in each and every single trip that they organize. In addition to their passion and determination to promote a unique travel experience in Nepal, the company has been working to be a true companion not just to their clients but also to the environment and community that they operate in.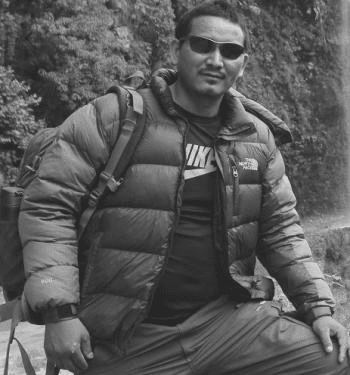 "The Tourovation Hub is becoming a great support in all aspects of our business, such as financial planning, marketing, strategic planning, business model and especially sustainable tourism. It is a great potential platform for newly started tourism businesses, those who are looking to operate their business in a sustainable way."

Jag Bahadur Budha, CEO
Jag Bahadur Budha, an adventurer and passionate traveller started the company in 2017 with the aim to get people to explore the hidden valleys and unique Himalayan culture of Nepal and promote sustainable tourism, especially in the Dolpo Region. Unlike other famous trekking trails in Nepal, the rugged trails of the Himalayas in Dolpo are yet to have commercial accommodations and tea shops. Tents, cooks, porters, guides and ponies are required to make trekking in the region possible, making it a challenging but a wholesome experience.
Himalayan Companion makes it possible by planning the trek from the moment one steps foot in Nepal. Everything from arrival until departure is taken care of by the company, providing value for money. The company operates its treks and expeditions by mobilizing local resources as much as possible, creating employment opportunities closer to home. Through the Tourovation Hub at Nepal Communitere, the company has been adopting sustainable practices by using solar energy to light and charge batteries during their treks and expeditions.
Book your Spring holiday in Dolpo by contacting Himalayan Companion Treks & Expedition today by calling or emailing:
Phone: +977-9851133894
Email: [email protected], [email protected]