Fab Lab Nepal is a collaborative center for innovation, invention, education and humanitarian outreach through a fully equipped digital fabrication workshop. It provides access to knowledge, tools, and resources that bring ideas from heads to hands and champions 'making' as a means of empowering the people of Nepal regardless of their gender, social status, ability or economic means. It is a first of its kind digital fabrication lab in Nepal which aims to develop the capacity of humanitarian responders, entrepreneurs, engineers, skilled workers, migrants, students and private sector players by promoting local manufacturing and design. 
The equipped FabLab Nepal will fill a critical product development gap for the development sector around health, education, environment as well as other emerging sectors in Nepal such as agriculture, manufacturing, designing, packaging and Information & Communication Technology (ICT). Nepal Communitere in partnership with Field Ready have launched the FIRST ever Fab Lab in Nepal in February 2021 with support from our invaluable donor partners Massachusetts Institute of Technology's (MIT) Center for Bits & Atoms, Dassaults System Solidworks and UKAID.
1.What is a Fab Lab?
Fab Labs are fabrication laboratories equipped with tools and equipment that allow users to make, innovate and create 'almost anything'! They provide widespread access to digital fabrication technology and enable people to turn their ideas into tangible prototypes or products.
Fab Labs began as an outreach project from MIT's Center for Bits and Atoms in 2001 under the leadership of Professor Neil Gershenfeld and has grown into a global network of over 1,500 labs in more than 90 countries. All Fab Labs share common tools and processes to facilitate the sharing and replication of ideas and inventions.
2.What specific equipment is at the Fab Lab Nepal?
Fab Lab Nepal has a wide range of equipment such as:
3.Where is Fab Lab Nepal located?    
Fab Lab Nepal is stationed at the Nepal Communitere hub in Pulchowk, Lalitpur. We are easy to locate on Google Maps with limited parking available on site.
4.Are there any fees to use the Fab Lab?
There will be a minimal fee for the use of Fab Lab resources ranging from NRs. 500 – 1,500 to support maintenance and sustainability. For the first five months (March-July 2021), you may register for a Fab Lab workshop or training which also includes access during our "Members in Making" hours. There will also be FREE Fab Lab Fridays where you can pre-book time to use the Fab Lab machines and equipment with support from our Fab Lab team.
5.Will there be Fab Lab memberships?
Beginning in July 2021, users will be able to purchase monthly or yearly Fab Lab memberships. Membership will include the following:
Access to safety training and equipment.
A Fab Lab Member ID and Certification on trained equipment.
Use of Fab Lab equipment including 3D printers, a laser cutter, a vinyl cutter, a CNC router and more.*
Use of Fab Lab spaces including a makerspace with a wide assortment of hand tools and conventional power tools for woodwork and metalwork.*
Support from dedicated Fab Lab staff experts and designers in the use of tools and machines and product design and development.
Connections to Nepal Communitere's network of industry experts & technical consultants.
Access to dynamic space, with hi-speed internet and backup electricity (depending on the COVID-19 situation).
*Maximum hours for equipment use will be capped based on machine, space and membership type. Use of equipment and space beyond that included in membership can be booked for a minimal hourly fee.
6.Will there be training and workshops conducted at the Fab Lab?
The FabLab team will be organizing regular training sessions & workshops on Mondays and Wednesdays on CAD, Digital Fabrication, Electronics and Robotics and Human Centered Design. Due to COVID restrictions we will accommodate 10 people maximum for each workshop so book your spots soon!
7.What are Fab Lab Nepal's Operating Days and Hours?
The tentative schedule for Fab Lab Nepal is outlined below. We will be open Monday-Friday from 9:00am – 5:00pm as well as for special events or workshops on select evenings, Saturdays and Sundays.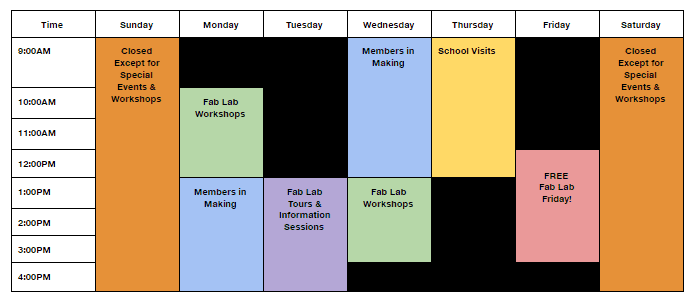 8. How can I schedule a booking to use the FabLab?
All workshops, tours and bookings for use of the Fab Lab will require you to schedule a pre-booked appointment. You will be asked to attend a Fab Lab Nepal Tour and Information Session and can then sign up for workshops or book for the Free FabLab Friday sessions. You can book your time or a slot for a Fab Lab tour by contacting Pradita Pradhan or Bipin Sharma via email at [email protected] and [email protected]. For up-to-date information on open house events, workshops and bookings, follow Fab Lab Nepal on Facebook.
Nepal Communitere is an open and inclusive innovation hub for bold innovators and creative changemakers. As a vibrant community resource center, we offer coworking, Makerspace, training lab, and business incubation services to help people turn their brilliant ideas into reality. Our dynamic space, made from 16 donated shipping containers, is a place that values growth, learning, and safe failure. We believe the process is as important, if not more so than the product.
Field Ready Nepal focuses on manufacturing humanitarian aid items locally to specifications and standards desired by aid agencies. Field Ready and our local partners have led the development of the 3D printing and digital manufacturing sector in Nepal producing designs, products, training programs and trained digital innovators for Nepal's budding digital manufacturing sector.
       FabLab Site Map