Amidst the hustle-bustle of the festivals in Nepal during month of October, our FabLab team: Pallab, Pradita and Shashank, were representing FabLab Nepal in the FabFest 17 in Bali, Indonesia. It was an 11-day event starting from 11th of October to 22nd October. This is the first EVER global fab event that FabLab Nepal got to attend after joining the Fab community in 2021! It was an inspiring event where the team took part in numerous workshops, panel discussions and also presented the work on a plastic recycling project. The event not just brought together people or organizations working in the same sector to network but also helped exchange learning from each other in general to improve and redesign the way we work and think!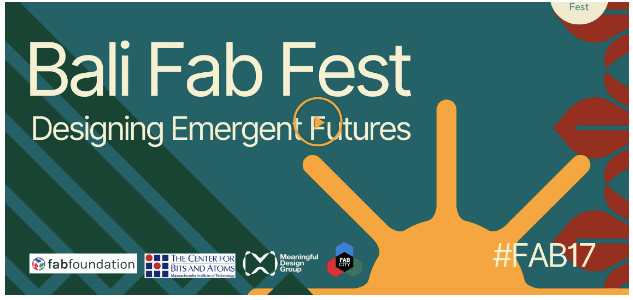 The main theme of FabFest 17 was "Designing Emergent Realities" with focus on the efforts into inventing and realizing the world that is coming next: responding to global challenges such as climate change and social exclusion through small-scale interventions in situated communities which aligns to our core focus at Impact Hub Kathmandu! The event enabled meaningful collaboration between innovators, makers, entrepreneurs, organizations, and the public sector through various workshops, talks and panel discussions which ranged from fab loom, 3D printing pottery, Designing circular product, bioplastics and the future of the materials, expression of wood, tolocar and lots of exchanges!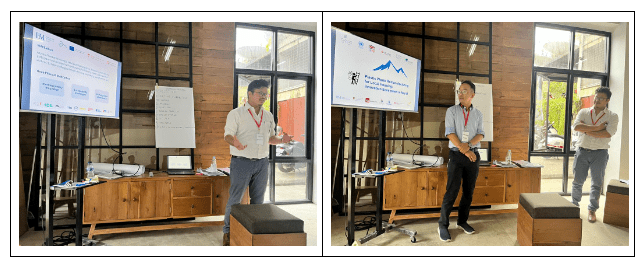 One of the first workshops we got to attend was "How to (Re)Design a Circular Product" by Nicole Bakker, from circular engine. In this workshop, we learned about LCA (Life Cycle Assessment) of a product by using a data sheet in order to calculate the amount of carbon footprint our product might leave behind. This workshop focused around being mindful of the recycled plastic products in our ongoing P2G (Plastic 2 Ghar) Project. After a delicious lunch, we headed to a talk on "Making and Mending Medical Devices in Syria" by Aziz Wadi. Here we learned interesting thing: to prioritize and make choices around repairment/reuse verses making a new one.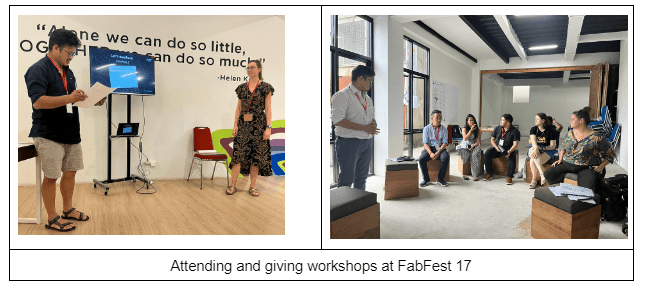 Representing FabLab Nepal, we hosted a workshop on "Plastic Recycling For Shelter Solutions" where we introduced our P2G project to the participants and shared our research insights on the current situation of plastic waste in Nepal, the initiatives being undertaken by the local, local context and next steps of our project. Charles from Field Ready Philippines and Krishneal from Field Ready, South Pacific Region also presented their projects related to plastic recycling in their respective countries. 
As we are currently implementing the plastic waste remanufacturing project under the Sustainable Manufacturing & Environmental Pollution (SMEP) program, it was great to know about the precious plastic community and projects that makers from different parts of the world are involved in! We shared learnings and knowledge with each other and challenges around plastic recycling projects happening in countries such as Philippines, Bangladesh, Fiji etc. When presenting about the Plastic to Ghar (P2G) project, we got connected to a FabLab instructor from Alaska and Brazil who were trying to work on recycled plastics. During the course of the event, we also met Mr. Masato Takemura from Take Space of FabLab Hamamatsu, who envisioned the "Possibility of FabLab for SME Manufacturing Company", and an instructor for FabLab Bhutan.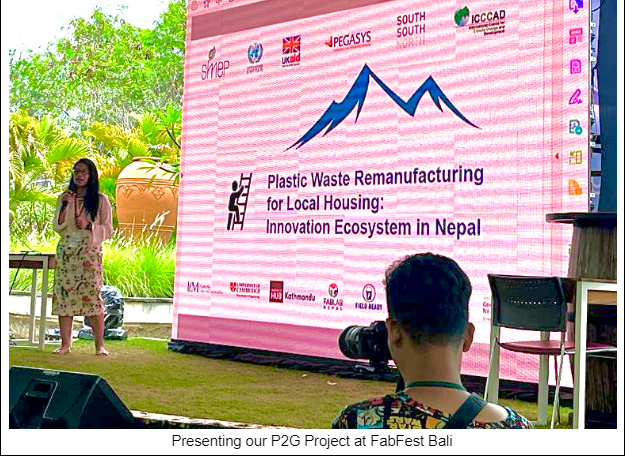 We also got to learn about traditional and small low-tech conversion for the Cotton to thread and then using handheld loom to convert it to fabric which is a possibility for our latest added machine to our fablab- the polyfloss machine! Nicole Bakker from circular engine, shared about an open-source platform where we can get data for energy use for different processes! Interesting knowledge pool for Nepal! We are excited to share all these learnings with the makers here through FabLab Nepal and we are launching 'Free Fab and Hub Tour Days' from 2023 so, keep an eye out!