The COVID pandemic is challenging for startups and business communities to collaborate and work together. As an innovation-led community hub and business incubator, we very much value the importance of networking and collaboration for startups and MSMEs. Networking is an effective, easy and powerful tool for enterprises to co-create and innovate to tap into shared resources, share learnings and engage in cross-marketing. However, the pandemic makes in-person networking sessions risky and difficult, globally and locally. Nonetheless, we at Nepal Communitere are seeking new ways to stay connected with our incubation graduates!
We have successfully incubated a total of 32 startups and MSMEs through our I-Cube and Tourovation Hub incubation programs. As we moved to a fully virtual incubation program because of the pandemic, we decided to fill the networking gap for our incubation graduates to engage and learn from one another. Hence, we started an 'Incubation Alumni Community' This platform provides our alumni with a medium to stay connected, share learnings, and leverage resources together via this growing community of MSMEs and startups.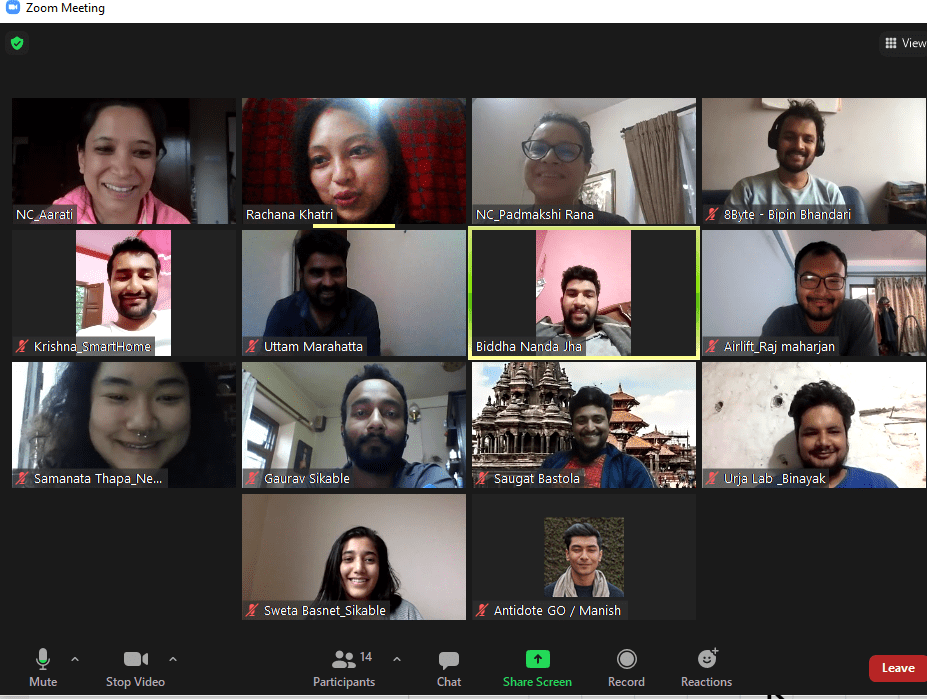 We organized our first virtual networking session with the I-Cube Alumni in May,  inviting all our I-Cube graduates from 2017 up until 2021 from Kathmandu and Chitwan.  The sessions were designed to be interactive and engaging to understand the needs and requirements of our alumni to best bridge the gap and support them in areas they deem necessary.
As an open hub for entrepreneurs, we are continuously engaged with our incubation graduates to provide the best support possible whether it be through business and financial coachings, post-investment guidance, or funds management. This also includes helping our graduates find new and optimal methods of accessing finance, business development, and marketing. Through this new platform, we hope to enable them to connect with everyone who has been part of our incubation program – entrepreneurs, facilitators, experts, and partners in our network. We also aim to share updates to community members to provide or channelize support for their business projects, solutions and enable partnerships.
Based on the collective requirements of our alumni group, our second monthly networking took place in June, where we invited speaker Archana Thapa from Laxmi Bank to talk about 'Access to Finance' one of the first sessions in the access to finance series. Access to finance is crucial for startups and MSMEs to roll out growth strategies, especially during the pandemic when businesses are either pivoting to adapt and sustain. Ms. Thapa walked the alumni through various provisions and schemes for MSMEs and the subsidized and concessional loans provided by the Government of Nepal. The alumni were most interested in subsidized loans and through the session, many of their queries were addressed by our speaker.
"I was really looking forward to knowing about existing and recently passed budget provisions by the government that aimed to support enterprises struggling at present times. I got answers to my queries and confusion in conversation with Ms. Archana. This session was really informative and engaging. I don't know when one hour passed by, it was amazing!"

Sapna Timilsina, Founder Hostel Nextdoor, I-Cube COVID cohort (2020) graduate company.
"It was a very informative and useful session! We got to know so many possible schemes for businesses and we are looking to apply in one that best fits our needs."

Amit Bista, Cofounder 8Byte Creative Studio, an I-Cube Cohort I graduate company.
With our entrepreneurs' feedback, we're even more excited to explore and curate opportunities for our incubation alumni in the upcoming sessions,  which will include community resources, expertise, events, and FabLab Nepal. Are you someone who would like to engage with our alumni network? Stay tuned to our monthly newsletter, website, and social media pages for updates in the incubation space!!