Teller of Tales is a youth group and a national winner of ImaGen Ventures Generation Unlimited Youth Challenge 3.0 organized by Impact Hub Kathmandu in collaboration with and support from UNDP, UNICEF, and ILO in 2022! The team was born out of the need to bring powerful stories from our own communities. After rigorous mentorship from the Generation Unlimited program, Amresh (Co-founder of Teller of Tales) and his team is taking this passion project to next level! Here's what they have to share about their journey and progress…
"Tell your Tale with Teller of Tales" is a series where we explore powerful stories of people living in our communities. The first phase of this series focuses on Mental Health of youths in Nepal.
According to the report published by HERD in 2016, about 30% of the Nepali population suffers from mental health problems. More than 90% of the population in need of mental health care does not have access to it. The Nepali government only segregates 1% of its healthcare budget on mental health. In 2023, the story doesn't look any different either. Children and youth are some of the most vulnerable groups affected by mental health issues.
We are big believers in the power of storytelling. Through our storytelling podcast series, we sought to bring stories of average individuals and youth living among us who have achieved victory over their own mental health problems. As important as it is to talk about mental health problems, it is important to share about the journey of people who have overcome these problems. Keeping that thought, we produced a podcast series of 5 episodes focusing on different communities of youth where mental health issues have had severe impact in huge numbers.
Our Intro:
Listen to our Episode 0 / Promotional Episode:
What are we asking for?
1. Companies or Organizations that seek to sponsor podcast episodes so we can sustain our project for the next season. (Through brand and Logo placement)
2. Marketing Agency that can contribute to our Social Media Ad Campaign – Basically Facebook and Instagram Ads.
3. Organization that can help us reach a larger audience and listener base. (We are actively looking to stream our episode through radio stations).
4. Support us and our cause by buying our merchandise.
What can we give you?
1. Our merch/souvenir kit (They are cute.)
2. Brand/Ad Placement in our video and audio episodes.
3. Host an episode with us.
4. Involvement and implementation of your ideas in our next season.
When are we dropping our episodes? As soon as we secure some level of sponsorship.
Would you like to see a sample of our episodes? Please reach out to us via our email listed below.
If you are an organization or company interested in our project, please mail us at [email protected] or [email protected]
Know about our Episodes!
Episode 01: Voices of Resilience: Navigating Mental Health Challenges as Youth with Disabilities
Host: Ranju Darshana (Mental Health Advocate & Politician)
Guest: Rewati Karki (Youth Advocate) & Nir Shrestha (Youth Advocate)
Episode 04: The Unheard Voices: Mental Health Stories of youth from Indigenous Communities
Host: Mibusha Ghimire (Peace & Reconciliation)
Guest: Urmila Chaudhary (Tharu and Women's Rights Activist)
Episode 05: No More Shame: Stories of Migrant Workers Beyond Borders
Host: Smriti Ghimire (Psychologist)
Guest: Charimaya Tamang (Anti-trafficking Activist)
Our Merch
1. Keychain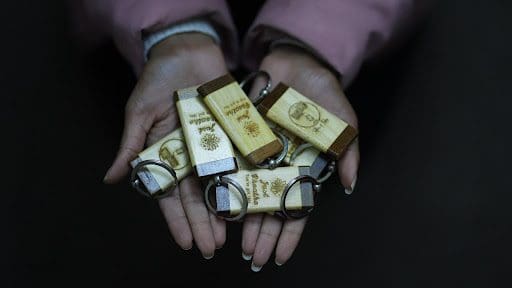 2. Mug