Making Programs Inclusive and Accessible at Impact Hub Kathmandu: Kicking off the UNICEF Generation Unlimited 3.0 in Nepal
It's been an exciting month at Impact Hub Kathmandu as the implementing partners of ImaGen Ventures Generation Unlimited Youth Challenge 3.0 in Nepal organized by UNICEF in partnership with ILO and UNDP Nepal. We welcomed 15 youth teams with participants who identified as people with disability, the LGBTQIA+ community, ethnic and religious minorities and youths from Bagmati, Madhesh and Sudupashchim province. 
A key focus was to ensure that the program application was equitable and accessible to youths from different walks of life. Soon, we found ourselves onboarding Sugit Gurung and Nir Shrestha, as our disability and inclusion advisors to test and improvise our online application to ensure its accessibility to blind youths. In the process, we were able to publish the application by removing multiple choice questions, providing descriptive examples and publishing the application in English and Nepali Language. For youths who had challenges submitting the application through google forms due to technical and geographical limitations, applications were accepted in hand-written or printed format to encourage their submission and intention to participate, trying our best that no one is left behind.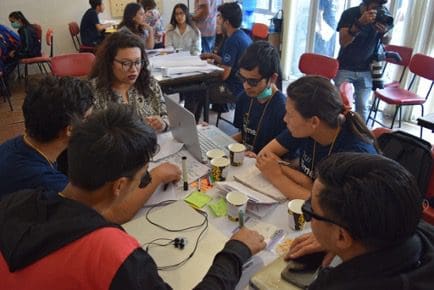 Acknowledging the diverse learning needs of our participants in the program, an adaptive curriculum was designed and developed by the Impact Hub programs team consisting of Bahar Kumar, Padmakshi Rana, Rachana Khatri and Samanata Thapa. The bootcamp was a 3- day Design Thinking process with a storytelling approach to make the process more intimate, engaging and human-centered. Empathy was the core of the program to create a safe and respectful learning environment. Four separate boot camps were organized for the teams in Kathmandu, Janakpur and Kailali in Nepali, English, Maithili, and Hindi languages.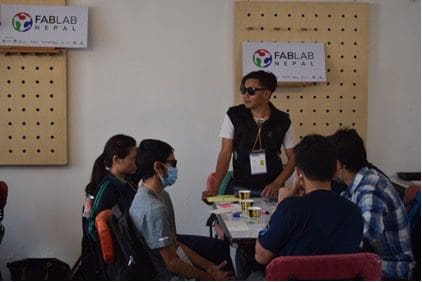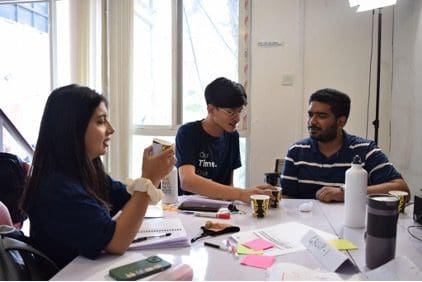 Braille papers and laptops to take notes, prints in Nepali and English language, graphics translated into word format and mobile data were provided to the participants to aid their learning. An accessibility assessment was done with our blind disability and inclusion advisors to make our training hall, dining area, and toilets accessible to people with different disabilities. A lift that was installed in our facility back in 2020 was a reminder to acknowledge the importance of our own team's preparedness to make our space wheelchair friendly and accessible and the Bootcamp was a great way to validate it. The Bootcamp was designed to develop social campaigns by integrating creative arts and media to address the most pressing issues in their communities. Creative ideas were materialized in the 3-days engagement with messages addressing mental health, toxic masculinity, violence against girls with disability, access to health care for the LGBTQIA+, Queer disability, inclusive education and workspace, climate action and political literacy for Dalit communities.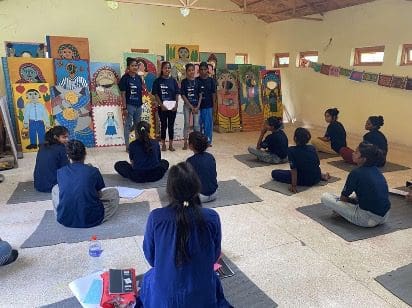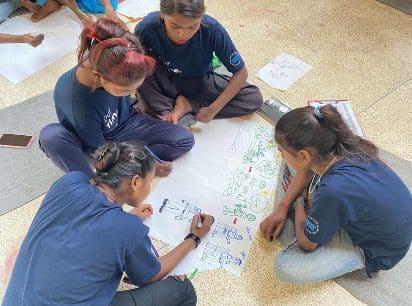 We are thrilled to have designed and facilitated an inclusive learning platform for youths to participate and introduce Design Thinking to their work, and equally excited to connect them to a diverse set of mentors – Kripa Basnyat, Krishangi Basnyat, Niranjan Kunwar, Pratima Gurung, Preet Shah, Priya Joshi, Ichhya KC, Sanjeevani Yonzon and Sapana Sanjeevani, to aid their journey in implementing the project and amplify their impact in the communities. The majority of our mentors identify as women experts in their field who also identify as people with disabilities, members of the LGBTQIA+ and minority communities. As we try to embody inclusivity in the program, our mentor pool is also curated to be an inclusive and welcoming platform for diverse identities to claim their space and be able to best resonate with the ideas ideated in the program, fostering meaningful partnerships and provide access to resources. The teams will now be going through a 1.5 months mentorship program, preparing to become one of the five National Challenge Winners and further compete to pitch their ideas in the Global Challenge.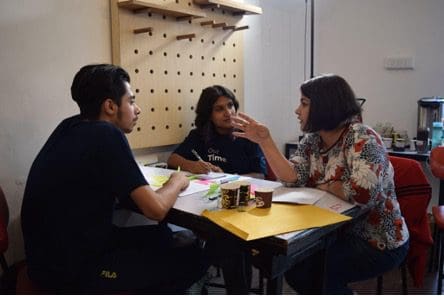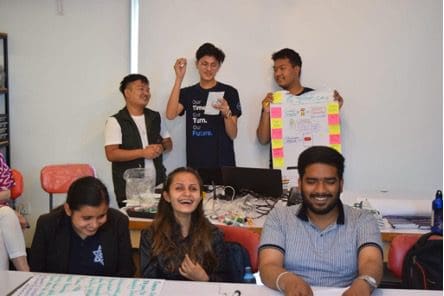 As we embarked on the journey to be an accessible and inclusive program, there were times when our internal criticism set in to question our capacity as a team to accomplish it and accommodate the diverse needs of our participants. We were fearful of the failures but we did not want to be regretful for not trying to make our programs inclusive. The past few months have been a learning experience for our team at Impact Hub and the community we work with to build our capacity and awareness to be an inclusive workspace that welcomes people of all identities. We are still learning but the power of will has been our greatest learning to break the pattern and be the change we want to see!