Meet the UNICEF Generation Unlimited 3.0 Teams and the Nepal National Winners to Advance their Ideas into Reality!
As the implementing partners of UNICEF Imagen Ventures Generation Unlimited 3.0 in partnership with UNDP Nepal and ILO, we are thrilled to introduce the five national winners who are now preparing to contest to become the two finalists for the Global Youth Challenge this year.
After the end of the 3 days boot camps in Janakpur, Kailali, and Kathmandu, 15 participating teams underwent 2.5 months of mentorship to craft and sharpen their campaign ideas. The ideas ranged from mental health, sexual and reproductive health rights for LGBTQIA+, disabled inclusive workspace and education, gender equality, and political literacy to life underwater. The National Pitching Showcase took place on 23rd July 2022 at Marriott Hotel, where each team and participant were celebrated for the passion, energy and commitment they brought to the program to create a meaningful impact in their communities. 

Each team was evaluated on the basis of impact, feasibility, teamwork, innovation and pitch performance by our esteemed judges Pooja Pant, Director of Voices of Women, Prajwal Gadtaula, Founder and Director of Business Bizz and Manish Rauniyar, Co-Founder of Canopy Nepal . Crowd voting was also conducted to make the process democratic, providing an opportunity to the audience to choose an idea that made an impression on them. We were equally proud to have John B. Trew the Regional Generation Unlimited Advisor with us in the program to encourage our talented youths!
Here are the 5 National winning ideas!
1. DSA Girls: A team formed in the Disability Service Association located in Karyabinayak, a home for children and adolescents with a disability, DSA girls are bringing the community's attention to violence against girls with disability. They plan to do it by organizing workshops and programs in 10 local schools with the intention to create a safe space for girls with disabilities to share their personal stories and experiences through creative arts and mediums and encourage young girls and boys to raise their voices against violence based on gender and disability.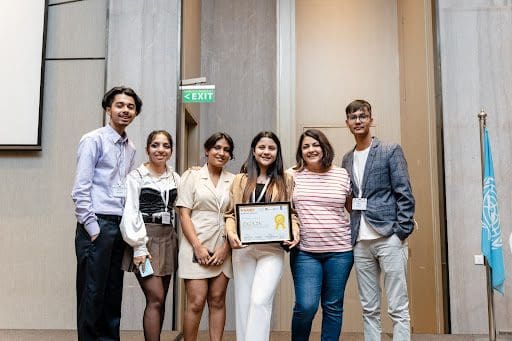 2. Ekikya: Ekikya is a project started by high-school graduates that aim to uplift the status of single mothers in Nepali society by bringing stories of single mothers from every nook and cranny to the mainstream. They strongly believe in the power of storytelling. They will be collecting anonymous stories from single mothers and sharing them on social media platforms with the aim to create safe and comfortable societies where single mothers can thrive judgment-free.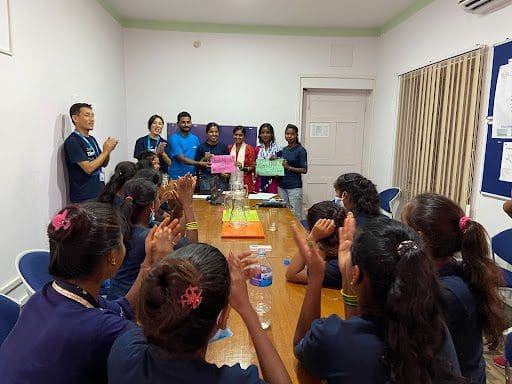 3. Maithli Bhumijaas: Hailing from the land of Janaki holds a religious significance for daughters, this team from Janakpur aims to shift extravagant expenditure on dowry to investment on education for girls through the traditional Mithila art in their community. An all-female team with Mithila artists, the team is set to counter the traditional norms prevalent in Nepal and mostly Madhesh through the power of their traditional art.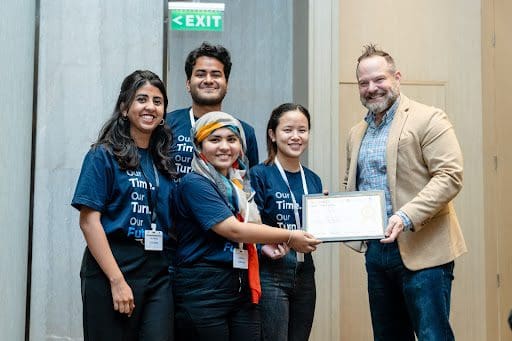 4. Tellers of Tales: Brought together by their own mental health stories, this team aims to bring the stories of mental health through their podcast that will feature the battles won against the mental health stigma in our society. The podcast aims to create a safe space for people to share their stories, foster solidarity and help people to seek professional mental health services in Nepal.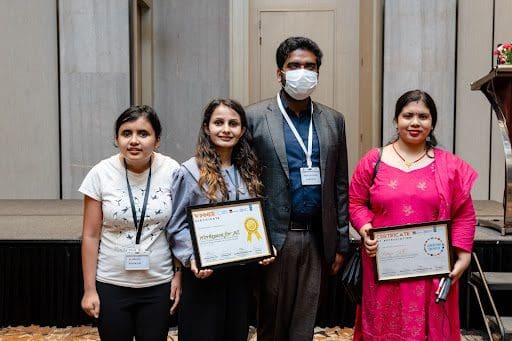 5. Workspace for All: This team of university students aims to create an inclusive workspace for people with disability by making workspaces accessible and disable friendly. They aim to do it through a documentary aimed at employers and human resource professionals, followed by a workspace assessment to reflect if it is our workplaces that limits a person with a disability and not their identity.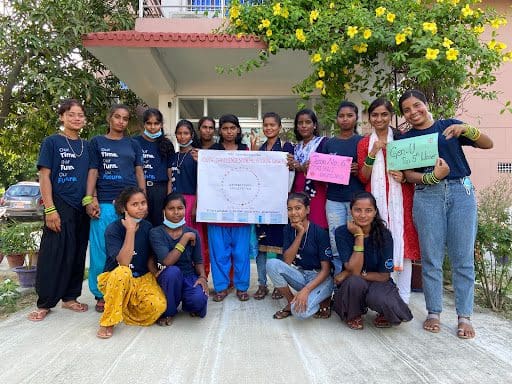 Virtual Attendees from the Team in the UNICEF office in Janakpur
As we move forward with the winning teams, we look forward to supporting the rest of the amazing ten teams in the Gen U 3.0 cohort who have been working on their amazing ideas with your help and support to further advance their talents and ideas to materialize.
Here are the rest of the 10 fantastic teams championing change in their communities:
Youths of DSA:

The team advocates for inclusive schools not just in the city but in every rural part of Nepal because they believe that every child deserves to receive education closer to home, family, and their community with every school equipped, trained, and skilled to teach children with disabilities.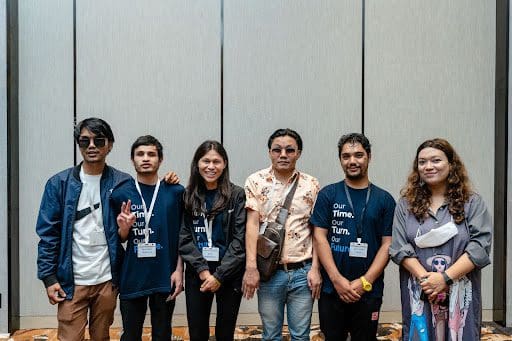 2. Team Rainbow: Everyone should have equal access to Sexual and Reproduction Health Rights. A team of transmen and LGBTQIA+ allies advocates for trans-men to access safe abortion and menstrual sanitation without the fear of shame and stigma.
3.Queer Disability: People with disability are often left behind when it comes to accessing materials to learn about Gender and Sexuality. The team aims to bridge this gap by developing materials that can be accessible to people with disability to understand their identity as an individual.
4. Team A Yogya: The advocates for the rights of life underwater and aims to educate children and parents to be mindful of their choices as a pet owners. Are we stripping someone else's right to freedom for our individual comfort? You might wanna explore it through their short movie – Matsya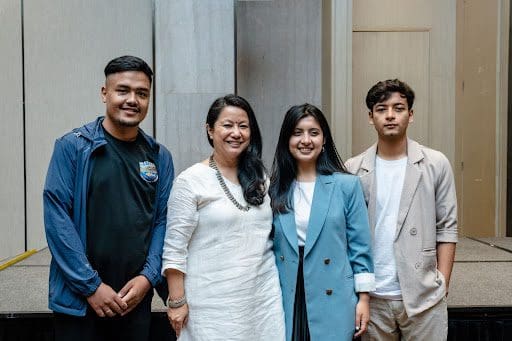 5. Manav Awiskar: The team aims to counter addiction to addictive substances in their community through skill and capacity-building opportunities for youth, especially young women by creating employability skills and entrepreneurial opportunities in Janakpur. 
6. Janakpur Girls: Another group of Mithila artists is aiming to battle climate change through their art to fight against deforestation through the power of traditional Mithila art that in itself holds a lot of significance for natural colors and painting methods.
7. Titanic: The imbalance in a society may not be because of an individual's choices but their circumstance. This team of Mithila artists aims to create employment opportunities for youths to counter brain drain and crimes in their community.
8. Dreams of Equality: The team advocates for the democratic right of Dalit women by increasing their political participation through political literacy amongst Dalit women in the Sudurpaschim province of Nepal through social media channels.
9. Team Khaptad: This young team of law students from Kailali aims to counter the mental health stigma in Sudurpaschim and Karnali province through their interventions in schools through workshops and awareness songs in Deuda Bhaka, a folk genre in the region.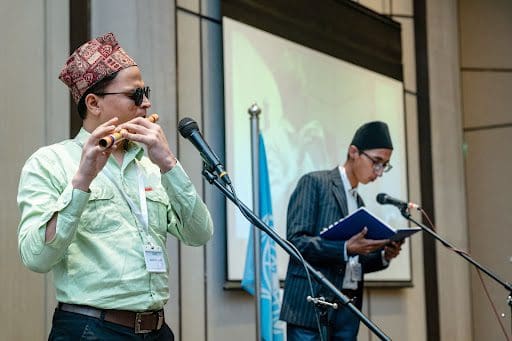 10. Gulabi Gang: In the fight against toxic masculinity, this group of young men who identify with the LGBTQIA+ community aims to shatter the patriarchal norms and gender stereotypes by creating a safe space and content for men to be emotional, love pink, and own household chores and responsibilities.
If you are someone who would like to create employment and collaboration ideas for youths, do reach out to us at Impact Hub Kathmandu to connect with the youths and ideas of Generation Unlimited 3.0 because this is not the end but just the beginning of encouraging, empowering and enabling our talented youths.
By: Samanata Thapa