By Mathis Rauland
The perks of being an open global community hub are that we're able to host, connect and work with diverse people from all over the world! We are part of a global network of 100+ Impact Hubs in over 60 countries, working across disciplines, acting across sectors, with amazing people putting ideas into action. Back in June 2023, we had Mathis join us for a short internship opportunity at Impact Hub Kathmandu working closely with the communications team to strengthen our comms strategy. Here's what he has to share about this internship journey with Impact Hub Kathmandu!
Starting from the middle of June until the end of September I had the wonderful opportunity of doing an internship at Impact Hub Kathmandu, a not-for-profit organization in Pulchowk that works with social innovators, activists, entrepreneurs and changemakers. The hub offers business support and prototyping services, leadership coaching, and organizational and technical consulting services to help innovators, changemakers and entrepreneurs realize their ideas and solutions. Having a bachelor's in social management and currently finishing the work on a bachelor's in social work, I was very interested in seeing the work of Impact Hub from an inside perspective – observing how the team works together, how events are organized and the reporting and communication are taken care of.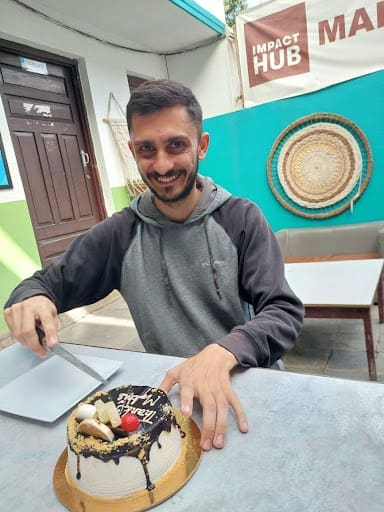 Throughout my time at Impact Hub, my main focus was communication on a diverse range of projects. I have maintained the Social Media accounts of Impact Hub, trying to showcase the projects in short, captivating posts, which people would rather find the time to read compared to a long and technical report on the project. This type of work was really helpful for me to develop my skills in Storytelling, which has become more and more important in the social sector but also learn the basics of Branding and Design. With the other staff of Impact Hub being engaged in their projects, taking care of the communications was a great match for me and the organization. I was able to learn a lot about communicating impact and maintaining transparency and was able to take some work off the Impact Hub team as they are constantly involved in a wide range of projects – from empowering local changemakers in the Terai to digital fabrication workshops for girls in Kathmandu.
Having studied Social Management I started my internship with a lot of theoretical knowledge on organizational aspects of social organizations and was very curious about how they are put into practice in reality. I'm very happy that I was able to put something I had learned from my studies into practice at Impact Hub by introducing the Impact Recap Series together with my colleagues. Focusing on the impact and efficiency of one's work is becoming more and more important in today's social and developmental work. It ensures that the money invested is being used to create the best possible output and by communicating information on their impact, organizations enable donors to find the best partners and invest funds in a way that will wield the maximum impact. Our Impact Recap Series is an attempt at showcasing such impact-related information but in a short and very accessible format. This way both donors but also any of our Social Media followers can get a brief understanding of the impact created by Impact Hub and get a good impression of the most recent projects.
Besides all the new things I learned myself on Communications and other topics, working at Impact Hub was a great experience due to the great atmosphere and diversity of the team. I always felt very welcome and everyone was very open-minded and interested in new ideas. I think that Impact Hub Kathmandu has the perfect approach for tackling social challenges in Nepal. The team is a great mix of people who have studied or worked abroad and put their experience into practice in Nepal and young, innovative locals eager to learn and improve in this environment. Everyone is open-minded and has a good understanding of global trends while being truly Nepali and local at the core. This mixture and diversity is essential for social change and development in Nepal and wish the team all the best for their future projects!