Our excitement and adrenaline were super high as our aeroplane started to snake around the hills as we landed at the Paro International Airport in Bhutan, a beautiful airport with Bhutanese architecture. As we entered the building it seemed as though we weren't entering an airport but rather a monastery with the peace and calmness within. We were all set to attend FAB23 Bhutan whose thematic concept was "Designing Resilient Futures,". We (consisting of Pallab Shrestha and Shashank Dewan) were warmly greeted by the FAB23 team.
FAB23 Bhutan, whose thematic focus is "Designing Resilient Futures," kicked off on the 23rd of July at Clocktower Square in the capital city Thimphu, which is one of the most prominent places in the capital. The square was surrounded by stalls featuring displays by school children from all over the country showcasing their creations aimed at addressing national challenges. Makerspaces from various regions invited visitors to come and exhibit their achievements, while governmental and international organizations from around the world proudly commemorated the accomplishments of the makers they had sponsored. One of the more exciting projects by the students was a PET filament-making machine.
With optimistic speeches delivered by Dr. Tandi Dorji (Foreign Minister for Bhutan),
Neil Gershenfeld
(Director of MIT's Center for Bits and Atoms), and Sherry Lassiter (President & CEO, Fab Foundation) the second day started with lots of exuberance. Pallab attended a workshop entitled "Making Architected materials in the Fablab" by
Miana Smith
about making physical voxels out by incorporating functional voxels (3D lattice building blocks), whereas I attended "Global Practices in Assessment and Evaluation in K12 Digital Fabrication Learning" which dealt with current practices in assessment and evaluation of digital fabrication in K12 formal learning environments.
On the third day, we visited Buddha Point and Dochula Pass and I straight away headed towards the "Let's learn about how to design STEAM content using fab tools and design thinking methodology" workshop by Arundhati Jadhav which was concerned with designing content for STEAM labs to engage students for a long time using design thinking methodology. Pallab attended "Educating the Whole Child: An Exercise in Holistic Curriculum Design" which examined curricular framework to address the five areas of development necessary to educate the whole child: social, cerebral, emotional, physical, and spiritual — The day ended with us attending a talk by Dr Yogesh Kulkarni entitled "Self-sufficient village: Fab Village" about the successes, challenges and opportunities about creating a self-sustainable village and community.
The fourth and final day of our visit was started by attending the "Innovation, Sustainability & Community Symposium" where the panelist talked about various issues related to technology, its exponential growth, challenges and risk. Then we headed towards the most awaited workshop entitled "Toward a Zero-waste FabLab: Recycle Plastics with a Simple T-shirt Heat-press". This workshop mainly focused on recycling waste plastic filaments using a simple heat press and making sheets out of it. It was a hands-on workshop however the speaker, Emmanuel Gilloz, even showed us other technologies that could potentially be used to recycle plastics into 3D printer filaments. In addition to learning how to create recycled sheets of PLA (Polylactic Acid), we also found plastic recycling enthusiasts among the participants where we shared knowledge, our learnings and challenges of the P2G (Plastic to Ghar) Project. One of the participants was extremely impressed by our prototype sheets.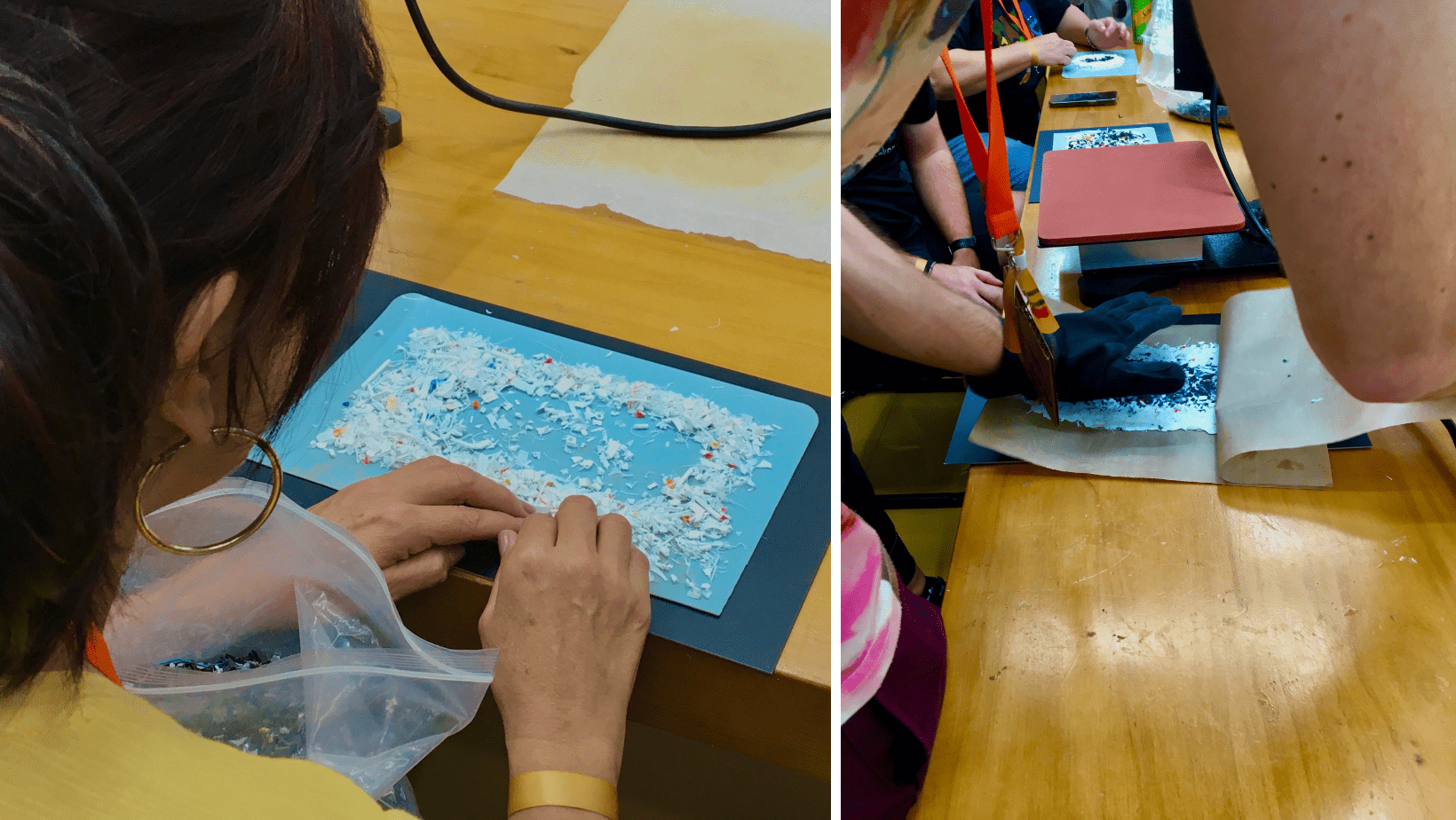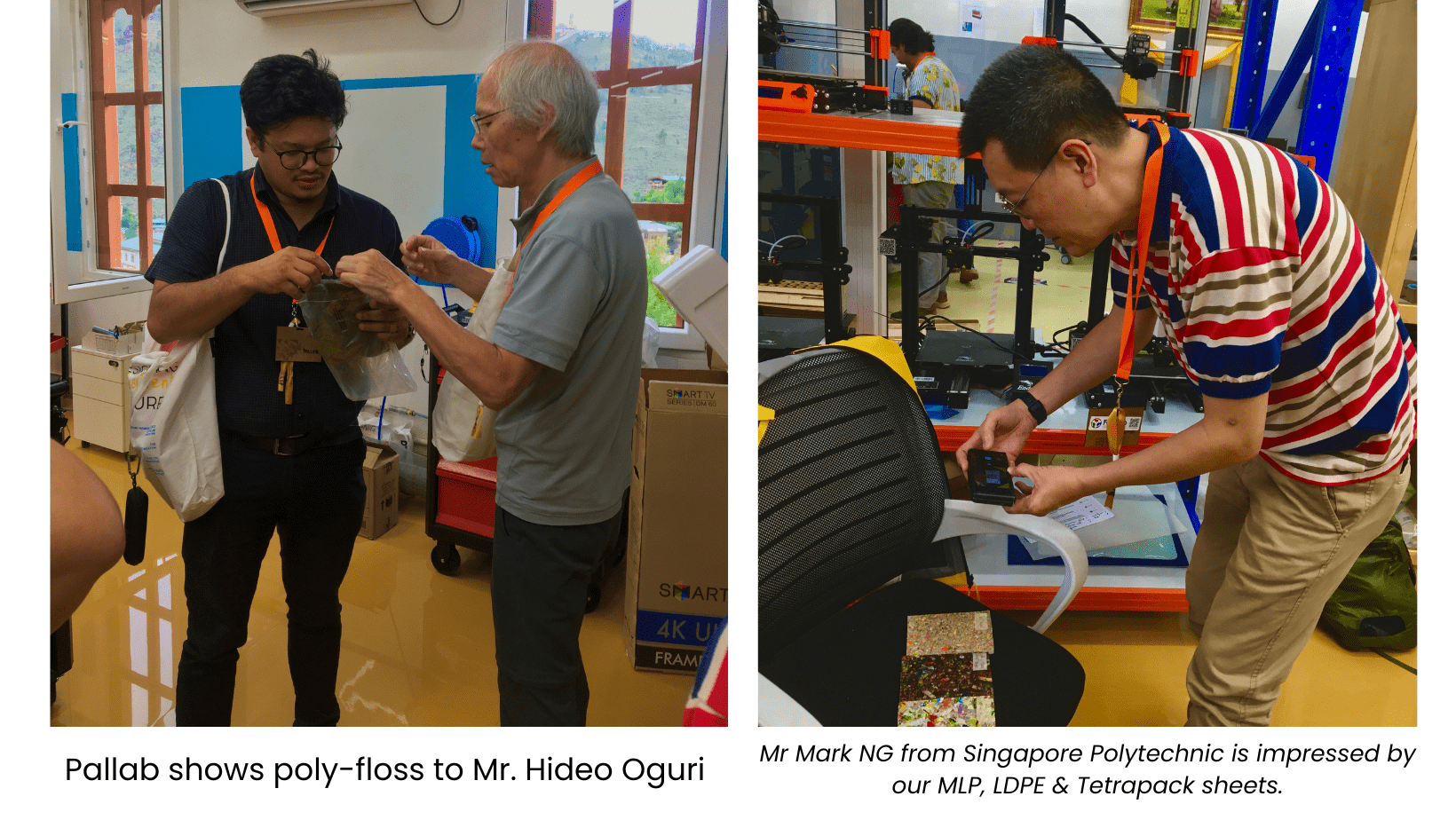 Apart from workshops we also had a great opportunity of networking with many prominent people in that event. To name a few, we briefly talked about our P2G project with Mr Koji Yamada, Chief Advisor of FabLab CST and a representative of JICA Bhutan where they examined the samples we had taken. Additionally, we also had a brief meeting with Mr Roshan Nair about a potential collaboration with USAID Nepal. Finally, another significant update from the visit is that FabLab Nepal has been inducted into SDG FabLabs!