With support from the Royal Academy of Engineering (RA Engineering) under their Engineering X program, we at FabLab Nepal organized several FAB Training this month. As we're approaching the end of 2021, with almost a year of the launch of FabLab in Nepal, our team is providing workshops on different kinds of digital fabrication equipment to diverse groups of Nepal with the aim to share the knowledge and upskill the participants in the field of digital fabrication. Digital fabrication is one of the highly in-demand skill sets of the 21st century. The FabLab Nepal team organized three workshops on digital fabrication starting from basic to intermediate level training modules. What's different from last month is that this time we had the opportunity to host the training in-person which allowed participants to have hands-on experience on CNC, laser cutting, and 3D printing. Also since these workshops were aimed to build their basic knowledge in using the machines, it was important to host the training in person. Pallab Shrestha, Technical Lead at FabLab Nepal along with Pradita Pradhan, Program Manager of Field Ready, and Bipin Sharma, Technical Associate at FabLab Nepal, facilitated sessions in three major pieces of training- CNC routing, laser cutting and engraving, and 3D printing.
1. CNC workshop
We had a diverse pool of participants in the CNC workshop, from SLC students to PhD graduates. Unlike other workshops on CNC, this was an intensive five-day-long training where participants started from the basic 2D designing to stepping up to 3D designing in CAD- the foundation of digital fabrication. They also learned about the basic safety rules and protocols on tools, designs, and the know-how of it. Participants were trained to use CNC software empowering them to carve their own design at the end of the workshop. Participants were amazed to see the details and precision of the machine. The whole training was conducted using handibot, a mini CNC router. Their eagerness to see and learn the Shopbot, a bigger CNC router in action, is still in the pipeline!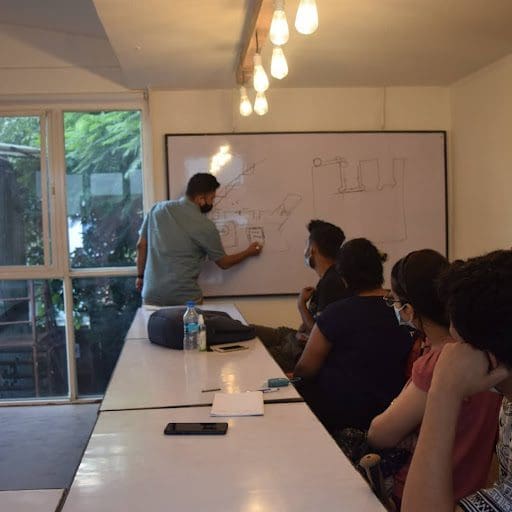 2. 3D printing workshop
After the CNC workshop, we conducted a three-day-long 3D printing workshop on the additive manufacturing process. In 3D printing, the machine makes a 3D shape or a product by adding material layer by layer similar to how we build a house brick by brick. The participants got the opportunity to learn about 2D design, 3D Design in Solidworks and then applied those skills to print it using our 3D printer. The participants also used other software like Blender to make 3D models.
"The way designing and giving tangible shape to our imagination has been made so easy by the 2D and 3D printing process is magical! Since the arrival of FabLab, I was really interested in learning 3D Printing. And in just three days, the FabLab team taught me how to use Solidworks to design and bring a virtual image to life.I really look forward to attending more of these workshops in future with Pallab dai and team!"-

Rachana Khatri, inhouse participant, Nepal Communitere
3. Laser cutting and Engraving Workshop.
Lastly, we conducted a two-day laser cutting and engraving workshop which was combined with 2D designing. The participants learned laser cutting, safety protocols, and incorporating Kerf and many tips and tricks involved in designing any product through laser cutting and engraving. They were also taught about the material that can be cut using it and how it's operated. It was challenging for the participants at the beginning since this is a very technical skill but eventually, we felt really proud when they were able to understand and reflect the learnings on their designs. Participants were so amazed and happy to see how fast the laser cutting could work maintaining a high quality of the cut and engraving in minutes!
It has been a great experience and learning for participants as well as facilitators through these workshops. While they learned new skills at the lab, we as trainers were also able to improvise and adapt content every time based on the audience's need and feedback. Participants have been requesting similar types of workshops in the future and some have been asking for longer and detailed workshops which reflect their interest in this field. We're thrilled to have such a diverse audience and we look forward to creating a diverse curriculum for all these different target groups. Right now, we're not only focusing on how to use the machines but also their application in the sectors in the safest possible way. Our workshops recurring in nature with the aim to reach as many participants as possible so keep an eye out for applications of upcoming workshops on embroidery in October. You can see details about the workshop on our official FabLab Nepal Facebook page or contact us directly via email at [email protected]