Collaboration lies at the core of Civil Society Organizations (CSOs). We are putting that belief into action with our civic actors in Lumbini and Madhesh province in the USAID Civil Society and Media Program. We challenged our civic actors to organize community events in collaboration with one another in the program to boost their presence, promote their impactful work and forge stronger bonds with public and private stakeholders. In Dhunusha, Kapilbastu, and Rupandehi districts, the civic actors were initially hesitant due to financial limitations. However, in August, civic actors and six local mentors in our program joined forces, partnering with local governments and communities to make it happen. The aim of these Community Program Challenges served as a powerful reminder of the transformative potential of collaboration. It demonstrated that shared vision and collaboration can overcome financial constraints and achieve remarkable results. It was a reminder of the incredible potential within collective action and partnership.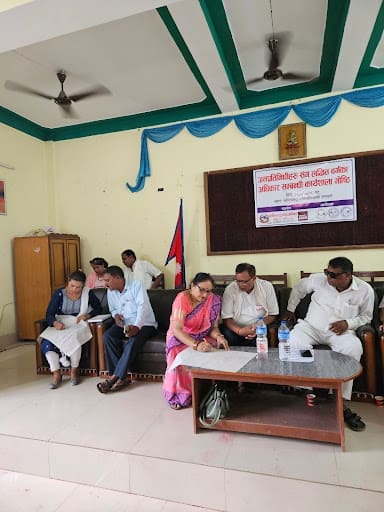 Civic Actors from Kapilbastu with Local Government Representatives of Taulihawa Municipality
Connecting Local Government and CSOs
In Kapilbastu, our civic actors organized an event on 'Status of Marginalized Communities, including Women, People with Disabilities, and Muslim Groups, and the Pivotal Role of Local Government'. They put their learnings into practice by raising funds through online crowdfunding, breaking away from the norm of organisations in their community. The collaboration between three grassroots organizations, Muslim Shashaktikaran Kendra, Lumbini Apangata Bikas Kendra and Gramin Bikas ko Lagi Samajik Tatha Snaskritik Sahayong Samaj run by the civic actors and local mentors from Kapilbastu made the task more manageable. Together, they approached Taulihawa's local government, and with the support of the Mayor, they successfully hosted the event at the Taulihawa Municipality Community Hall.  This event served as a vital platform, fostering dialogue and awareness between civil society organizations and the local government representatives as a critical platform for dialogue and accountability between civil society organizations and local government representatives. Ward chiefs and prominent leaders from various civil society organizations in Kapilbastu actively participated, creating a dynamic and diverse atmosphere of engagement and collaboration.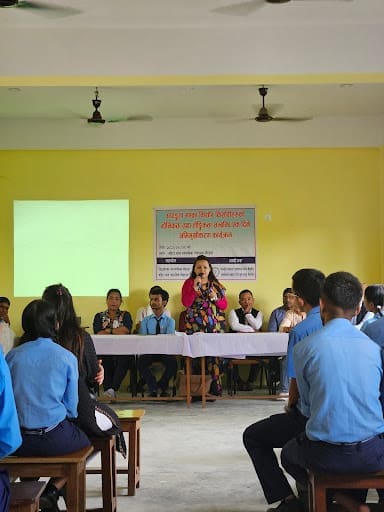 Deputy Mayor of Siddharthanagar Municipality, Uma Adhikari addressing the deaf students at Baal Bahira School
Gender and Sexuality Education for Students for Deaf Youth
In Rupandehi, the dedicated and diverse team of civic actors organized an orientation session titled 'Gender, Disability Rights, and Youth's Role,' a transformative event held at Baal Bahira School in Meudihawa, Siddharthanagar, exclusively tailored for adolescent deaf students with the help of their mentor, Bhim Thapa Magar. The team included Laxmi Chaudhary and Umesh Chaudhary from Marchawari, Sita Darnal and Mina Chaudhary from Sainamaina who themselves are people with disability and Binod BC, a trans-man and activist from Bhairahawa. The session's core objective was to impart a comprehensive understanding of the multifaceted challenges faced by individuals with disabilities, the LGBTQIA+ community, and youth in Nepal. In recognition of the pressing need for inclusivity and accessible communication tools, the students were introduced to the intricate dimensions of Gender and Sexuality, which are often forgotten in discussions concerning people with disabilities. This initiative received unwavering support from Mentor Bhim Bahadur Thapa, who not only facilitated the provision of the workshop venue but also forged a vital connection with Siddharthanagar Municipality. The program featured an inspiring address by Uma Adhikari, the Deputy Mayor of Siddharthanagar Municipality, setting the tone for a day of enlightening discourse with the deaf students. The support for the program from the local government and the school reiterated the importance of representation to create inclusive platforms to address issues that are often overlooked.
Eco-Cultural Tourism to Empower Musahar Community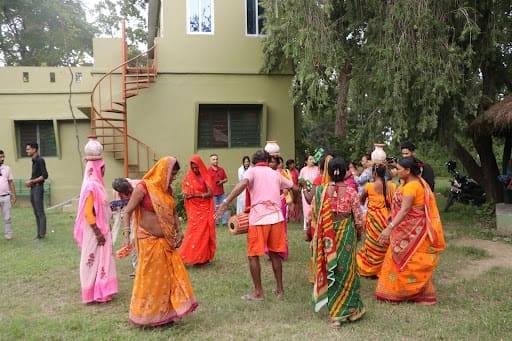 Jhijiya Performance by Musahar Community Members in Dhanusadham
The youth civic actors, Ganesh Sah, Sahida Khatun and Ritik Raj Rishi from Dhanusha and Sarlahi district organized an experiential idea pitching program bringing together other fellow social organizations, donor partners and activists in Dhanusadham. In the program, the youth civic actors pitched their plan for an eco-tourism enterprise with the motive to generate support to protect the indigenous culture of the Musahar Community, an ultra-marginalized Dalit community in Madhesh province. To immerse everyone, the civic actors organized a traditional Jhijhiya dance performance by the Musahar Community, a traditional cultural performance to promote the culture of the community and share it with a larger audience. Similarly, the team served Chawal ko Roti (Rice Flour Bread),  Teel ko Chutni (Sesame Pickle) and LemonGrass Tea, showcasing the unique indigenous food culture in Madhesh.
From fostering dialogue between CSOs and local government representatives to championing gender and sexuality education and preserving the cultural heritage of the Musahar Community, these stories remind us of the incredible potential within collective action and partnership. They exemplify the profound impact that can be achieved when individuals unite for the greater good, demonstrating that collaboration is indeed the cornerstone of progress and positive change. The journey of collaboration and community-driven initiatives undertaken by our dedicated civic actors in Lumbini and Madhesh provinces marks the potential of collective action to achieve their shared vision and goal for an inclusive and just society.