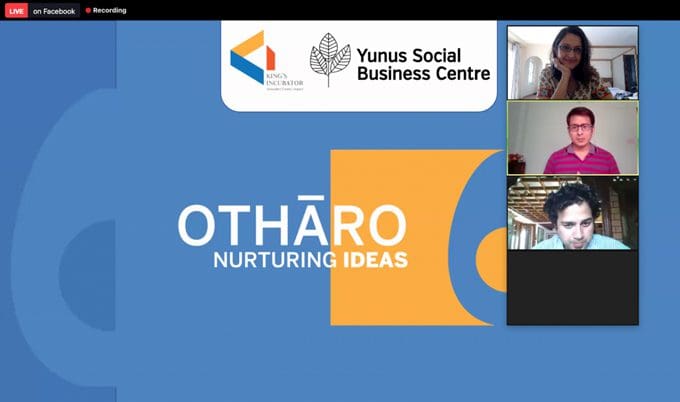 I recently had the pleasure of being invited to participate as a jury member in the King's Incubator's Yunus Social Business Centre (YSBC) for their "Otharo Nurturing Ideas" Demo Day. YSBC has so far nurtured 53 startup ventures in the last 6 years!
I have to be honest, with the recent slew of daily webinars and virtual panel discussions, I've been shying away from participating in such events. But when the King's team approached me to be a jury member I didn't hesitate because I was genuinely curious to participate in a virtual Demo Day. I've always found it quite wasteful to throw loads of money on printing banners, feeding guests in a fancy hotel, working endlessly with our entrepreneurs to help them prepare stellar pitches on stage. For what? Could those resources be better used to directly support these startups during the incubation process through seed funding?
The entire experience was efficient, well-coordinated and a true pleasure to participate in – the latter being a challenge when I attend the fancy Demo Days in hotels. The organizing team held a brief 30 minute prep call with all the jury members to walk us through the process and answer any questions. They sent us relevant judging criteria and background on the teams themselves. Looking back, I probably would have wanted a bit more of a description of their program to understand specifically what these startups' process of incubation was. This would allow me to appropriately frame my questions and comments so that they are relevant for the stage at which these entrepreneurs are. Sourcing is a huge challenge for incubators, and even as we roll out our I-Cube Program, we are continuously struggling to form the right cohort mix of startups. I could see that even though the "Otharo Nurturing Ideas" program focused on the ideation stage, there were definitely some startups who had a much longer track record and were beyond ideation. This gives them an unfair advantage and may leave the other teams feeling they have little chance to compete.
That being said, a total of 9 startups presented with three promising startups selected to receive 1.5 lakhs each in investment funds. Nepal Communitere has been following the journey of Revive who has grown over the past couple of years into a startup committed to minimizing clothes in our landfills by upcycling them into bags and other products. The teams that I was especially excited to learn about are Nepalko and Visionalaya. Several of our I-Cube startups are already utilizing Nepalko's platform to link their locally made products to the market by providing marketing and logistical management services. A valuable and much needed gap they are filling in the market. And while many Nepal-based tech companies focus mainly on their foreign markets, Visionalaya has been focusing on digitizing Nepal's government, public sector and rural communities through a variety of products and services from digital products to training and capacity-building. They already have an impressive team of 12!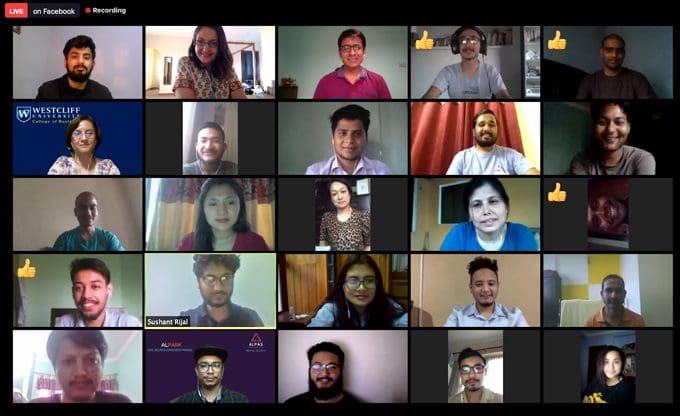 We all know that the Covid-19 crisis will have a drastic economic impact on Nepal. These businesses are focusing on leveraging, harnessing and investing in Nepal's local assets and infrastructure. YSBC will facilitate the transition of all these 9 participating ventures to access incubators, accelerators, seed and growth capital investors.
I am continuously inspired by Nepali entrepreneurs who have a broader vision to bring transformational change for Nepal, in the face of crisis. Surviving an earthquake, blockades, political gridlock and now a global pandemic will continue to fuel this generation of entrepreneurs to design business solutions that align with our national needs. Kudos to King's College's Yunus Social Business Center for conducting an inspiring Demo Day and allowing Nepal Communitere to participate so that we can also further support these emerging startups into their next phase.