If you've ever been to Nepal Communitere, it's impossible for you to not know Dilip Dai, his witty rhymes and amazing talent to fix almost anything! Ever since I first stepped into Nepal Communitere in 2017, I've always seen this superman running around for every little thing that happened here. From building this space to supporting projects such as Maker Faire, demo days, American Arts Incubator, workshops, community events, FabLab Nepal, and many more – he has always been there to help and is someone we could always rely on, no matter which day or time it was! With heavy hearts filled with sadness, love, gratitude and an equal amount of excitement for his new role, we bid farewell to an invaluable member of the Nepal Communitere family this month. Dilip dai is moving on after six years of dedicated support towards building Nepal Communitere to a new non-profit organization. Here's my conversation with our superhero, Dilip dai, reflecting on more than half a decade's journey and plans ahead….
Dai, tell me how you started your journey with Nepal Communitere?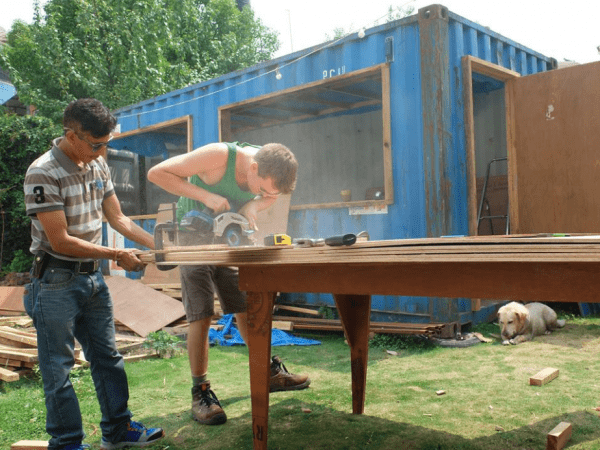 I joined Nepal Communitere in August 2015 right after the earthquake in April. I was working and traveling for renovation works at various remote communities including my village to build community schools. Seeing my love for serving communities, one of the volunteers working in the same school rebuilding project referred me to 'Nepal Communitere' where I met Sam and Katherine. When I got there and inquired about my role, they said "someone who would be setting up and building Nepal Communitere on this site". The team was planning to build a resource center where local people could access, learn and use varied tools to innovate and support communities. Delighted, I joined Nepal Communitere, as 'Site Manager' to build this space, set up containers, and manage the site, working with volunteers, dozers, cranes at the construction site and running around to register Nepal Communitere at local authorities. I still vividly remember how the site was in August 2015 versus today. It gives me immense happiness, pride, and satisfaction seeing this space completely transformed from an empty dungeon into a fully resourced center and that I was a part of this incredible process!
Dai, what is the most memorable experience for you at Nepal Communitere?
Well, there are uncountable memorable moments for me at Nepal Communitere. I'm very attached to this place as I was engaged from very scratch to building it. But the most memorable moment is when on a Saturday afternoon in 2015, I led a whole team of six 10-wheeled heavy vehicles and 1 crane to bring 12 large shipping containers from Balkhu to the Nepal Communitere site. I had to coordinate with the entire traffic police patrol and it was like leading a big mass behind me. It was not only a big leap for me in a leadership role but also gave me a life-long lesson that WOW I am capable and confident to accomplish such a demanding task! It unleashed my hidden abilities and now I feel confident to take on any challenge that comes my way.
Dilip dai working on the shipping containers of Nepal Communitere back in 2015 and in 2020
"नेपाल कम्युनिटर भनेको त मैरो लागि सधै अाफ्नै बच्चा जस्तै गरेर हुर्काएको ठाँउ हो र सधै माया गर्छु नि।"
-दिलिप के.सी.
How was the overall experience of these six years of being with Nepal Communitere?
These six amazing years transformed me and helped me grow personally and professionally. I realized that it is never too late to learn and take on new challenges in life. Nepal Communitere gave me many opportunities to explore different roles and responsibilities including setting up the makerspace, supporting two Kathmandu Mini Maker Faire events in 2016 and 2018, and the mega FabLab Nepal installation in 2021. Every time I go through Pulchowk road, my eyes always go to the Nepal Communitere building checking if the lights are on, gates are locked and whether things are okay. The joy at Nepal Communitere and community love is what I will always remember and cherish. As I move to another humanitarian organization for a similar role this month, I wish the best to the Nepal Communitere team with the hope that the organization continues to flourish and my wish now is to see the growth of Fablab Nepal.
Thank you so much Dilip KC dai for your hard work, commitment, dedication, enthusiasm, and love for this hub. You and your amazing qualities will forever be cherished and treasured. We will always be grateful to you for bringing smiles to all of our faces, surprising us with yummy afternoon treats, listening to our complaints, showering us with compliments, and being there for us every day! We wish you the very best for your next adventure! You will be missed, everyday Dilip Dai!