After months of the second-wave lockdown, we have recently been able to open our doors at Nepal Communitere and Fab Lab Nepal with COVID-19 safety precautions. This month we were able to launch some hybrid Fab Lab workshops and welcome a new member to our team. Here's what we're up to!
Meet Kamal!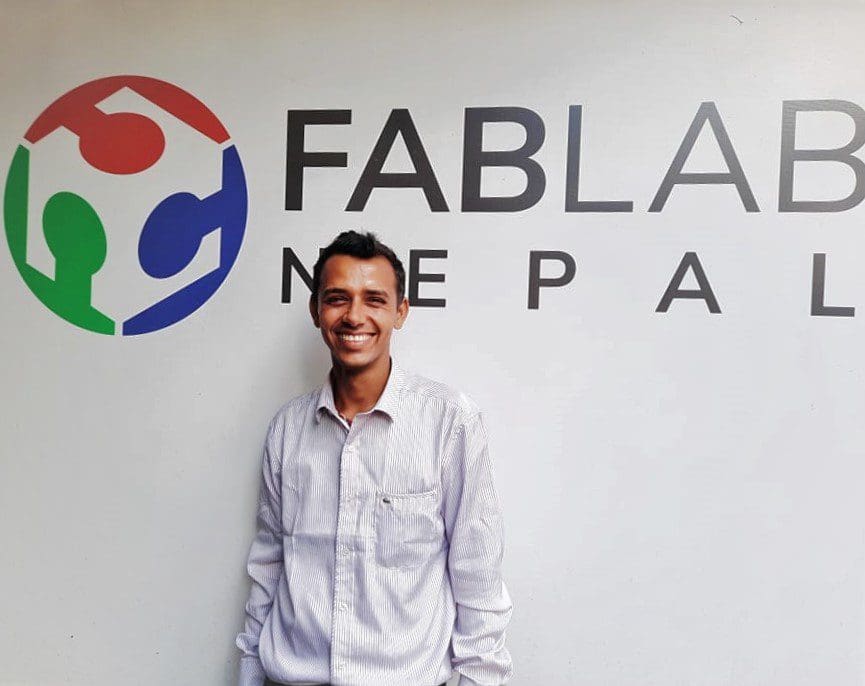 Kamal is a recent addition to the Nepal Communitere community as a 'Logistics Coordinator' for Fab Lab Nepal! He is passionate about farming as well as having hands-on experience with different machines and tools from an early age. He worked in Qatar in an AC manufacturing company for more than three years where he got to learn and use different tools, equipment, and machines. After returning to Nepal, he now plans to use all his learnings and experience here and finds this current role at Fab Lab a perfect fit. As a Logistics Coordinator for FabLab Nepal, he will be supporting the team around site management, maintenance, training, and logistics.
Besides his role, Kamal is excited to learn and advance his skills around 3D printers, Vinyl, and CNC cutting at FabLab Nepal. "From the first day I stepped into Nepal Communitere, I found the team really supportive, just like a family, and I'm looking forward to learning and growing with the entire team and community."
Fab workshops are back!
Another big news for our community is the launch of a series of Fab Lab workshops focused on 3D printing, CNC cutting, Vinyl and Heat Press, and Digital Embroidery! We organized our first pilot virtual training program back in February 2020 led by Pallab Shrestha and Pradita Pradhan and one of the key learnings from the pilot workshop was the possibility to use virtual tools and technologies to conduct technical training online! With this learning forward, we organized the first virtual workshop on Vinyl & Heat Press this week. Vinyl is one of the most popular machines today to help with a range of art, imaging, and craftwork also known for its versatility and power. We had 47+ attendees from diverse backgrounds including arts and science as well as working professionals! Pradita demonstrated the live computer-controlled cutting using a Vinyl cutter. Using a vinyl cutter is easy, even if one is a beginner and it enables us to create many products (stickers, signs, patterns, logos, custom t-shirts, etc.) with this equipment that looks great. We also co-created fun customized stickers and t-shirts during the workshops. The participants are now super excited to try it out themselves in the laboratory in the upcoming week. 
Shanti didi wearing customized t-shirts made with vinyl stickers made at FabLab Nepal
Upcoming workshops will focus on learning by doing, so most of the activities will be based on practical hands-on exercises where Pradita and Bipin themselves will walk you through each step to use machines. Learn more about these upcoming Fab Lab workshops below that you don't want to miss out!
Digital Embroidery
With the use of vibrant colors, intricate patterns, and rich designs, embroidery is an art form normally practiced by women in Nepal on cotton, silk, and satin fabrics. Traditional embroidery is time-consuming and needs highly skilled and experienced people. The advent of digital technology has eliminated those limitations and paved the way for enthusiasts and passionate people who want to delve into the embroidery industry. The workshop on digital embroidery by Fab Lab Nepal will focus on making embroidery designs in a designing software which will help even a beginner to make extraordinary embroideries. And Shanti will help understand the machine and the small details required before feeding the designs to the machine.
Digital Embroidery Registration Link Here
Date of Workshop: 6th of August 2021, 3PM-5PM
Workshop Fee: FREE!
Application Deadline: 6th August 2021, 11AM
CNC Cutting Workshop
FabLab Nepal is organizing a 'CNC Workshop' that will teach complete step-by-step modules to learn CNC cutting at FabLab Nepal lab itself! With the use of a CNC machine, you can safely, easily, and quickly create and carve even complex and detailed shapes or art with amazing finishing and high quality. Check out the sample designs that Pallab Shrestha designed at Nepal Communitere with help of a CNC shopbot!
Session Date: 16th Aug – 20th Aug 2021.
Session Time: 5PM – 6:30PM.
This module will be taught in multiple sessions from 16th – 20th August.
Package price: Rs 1000/- (Payment method will be sent after registrations)
Register now and don't miss out on the opportunity to be engaged with the Fab Lab team and get hands-on experience of using cool Fab Lab tools and machines!