Are our schools and workplaces LGBTQI+ friendly?
Did you know that men menstruate too?
Did you know that men can get pregnant too?
Where can families and friends who are struggling to become allies of the LGBTQIA+ Community go?
Where do we begin…?
In honor of Pride Month, we are trying to answer these questions through What's Hub Sessions held at Impact Hub Kathmandu. We are proud to have started pride conversations with the LGBTQIA+ Community where we try to bring decision-makers and Queer Leaders together with the aim to explore challenges, and opportunities and foster collaborations.
It all started with one powerful conversation with Unity for Change, whom we met through our program: Generation Unlimited Youth Challenge 3.0 Nepal while exploring challenges in the LGBTQIA+ community. We had the opportunity to learn that it is painfully difficult for the trans-men community to access quality Sexual and Reproductive Health Rights (SRHR) and safe abortion in Nepal due to social stigmas born out of a lack of education on gender and sexuality amongst healthcare providers. Hence we embarked on the journey to bring LGBTQIA+ leaders and members together with the healthcare and SRHR professionals in our What's Hub session titled 'Making Quality Healthcare and Sexual and Reproductive Health Rights Accessible to the LGBTQIA+ Community' to explore the challenges, potential collaborations and raise awareness amongst health professionals to create inclusive and accessible healthcare services in Nepal. 
The pride conversation was joined by  Mr.Badri Pun founder of Inclusive Forum Nepal, Mr. Yesung Rai, Mr.Sudeep Gautam from Unity for Change and advocates of the LBT rights who also identify as Transmen and Safal Lama a youth Queer Disability Advocate. Similarly we had Mr.Tushar Niroula, Executive Director of Marie Stopes Nepal and Dr.Anjila Thapa, co-founder of Yo SHAN representing the safe abortion and health care sector. As an outcome, we were able to explore opportunities for collaboration between the participants and organizations present in the session to overcome the need for gender and sexuality sensitization amongst healthcare professionals in Nepal.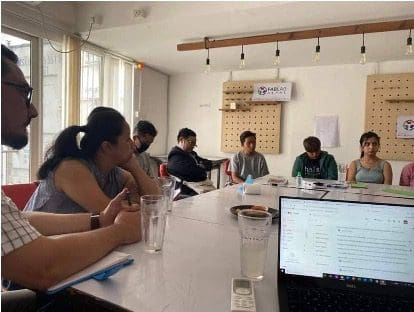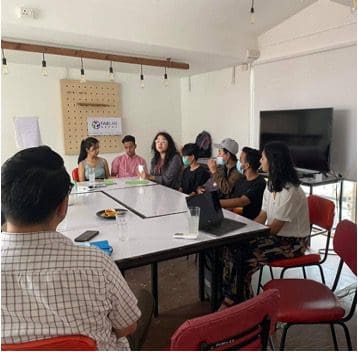 Similarly, through the stories that were shared during the session we were able to identify the lack of a support system and safe space in homes, education, and workplace for the LGBTQIA+ community, limiting the Queer individuals to reach their fullest potential in life. Inspired by our first pride conversation, What's Hub has collaborated with Kathmandu Conversations initiated by Wildlife Conservation Nepal to continue pride conversations in the month of July. 
As allies of the LGBTQIA+ community, we aim to enable safe and inclusive spaces with the Queer Community members, and to start conversations that matter beyond the four walls of Impact Hub Kathmandu by bringing decision-makers, organizations, policymakers, and change-makers under the same roof.